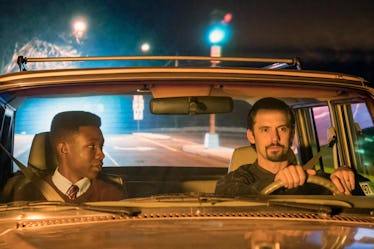 'This Is Us' Season 2 Episode 11 Promo Isn't Out Yet, But Here's What We Know
NBC
The fall finale of This Is Us ended at 9:57 p.m. ET on Nov. 28, flaring hope into our hearts that indeed this episode would end with a surprise promo. Sadly though, there's been no sign of a synopsis for the next episode in Season 2. Instead we were treated (again) to the full trailer for Rise, the show that NBC is clearly banking on being the next This Is Us. (Let's call it This Is Glee.) So what exactly are we supposed to do without a This Is Us Season 2 Episode 11 promo to obsess over until the show returns in January? Other than list all the fun ways Beth is going to murder Kevin on screen for driving off while high as a kite and Tess in the back seat?
The Tess twist was an emotional touch considering it was interspersed with Jack telling Randall in the hospital that that's what it's like to have kids. You're looking at this one, and *bam* suddenly you're completely blindsided that you should have been looking at the other one.
Here Beth and Randall have been focusing on Deja this whole time, trying to get her situated, only to lose her again. Now we see a clip of another little boy, sitting in an office, waiting for a home. We can only assume that when we return in January this little boy will be Randall and Beth's next charge.
And it turns out they should have been looking at Tess the whole time. Because someone is acting out. She's not just making bad choices, like jumping into Kevin's car to ride off with him when he's not looking. It's the thought process behind it. She's mad at her parents. She hates where she lives. Why? How? Since when? I mean, compared to Deja, this girl has everything!
But that's probably part of the problem isn't it? Her parents aren't paying attention to her. They're paying attention to foster kids. Someone was bound to act out.
But that's not the only thing we're going to need answers to. Because there's Kevin, pulled over, drunk as a skunk, and probably about to have his opiod addiction laid out for the world to see. (Remember, it's not just his family we're talking about here. He's a celebrity. There's going to be a mugshot. What are the chances it's going to wind up on Twitter?)
Then there's Kate. She and Toby still have a wedding they're working towards, baby or no baby. How is Kevin's behavior going to figure into all this? Will Toby get on a high horse and push Kate to break ties?
When we come back, by the way, the holidays will be over. Right now, it's Thanksgiving eve on the world of the show. We assume that when we return, there will be a time jump and the holidays will have passed. Will Kevin maybe be in rehab? Will Kate maybe will be feeling a bit more herself again? And Randall and Beth, will they have been matched with that poor little boy?
Meanwhile, in the flashbacks, we're still crawling towards that fateful day in 1997. At this point, it could be as short as days between now and the housefire. We have almost everything in place. Kate has the dog. Kevin has the broken leg. All we're missing is for Randall to go on a date with a nice red headed girl, and everything will be set for the fateful event.
Will Jack get a chance to tell Rebecca and his other kids about his brother before then? Or will be he pass into the beyond, with Nicky only a name that Randall knows?
This Is Us returns Tuesday, Jan. 2, 2018, at 9 p.m. on NBC.