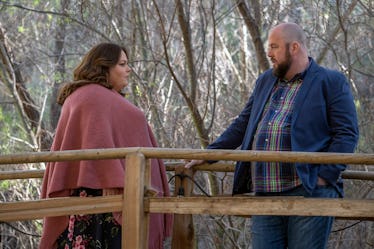 'This Is Us' Deleted An Emotional Scene From The Finale & It'll Make You Cry Again
NBC
This Is Us Season 2 ended in happy tears for all. Kate and Toby got married, Kevin saw the wisdom in letting go of the past, Randall saw the wisdom of letting go of the things he couldn't control in the future. As for Kate, she made the biggest leap of all, letting go of her father so that there was room in her heart for her future husband. But in a This Is Us finale deleted scene, it turns out that Kate's letting go was even bigger than we realized.
It looked like Kate might pull a "Runaway Bride" for a minute during the finale, a scenario Toby had feared. Having forgotten to pack Jack's tee-shirt (which was supposed to be her "Something Old" she would have on her, pinned inside her dress), she left the campsite where the wedding would take place, desperately searching for something to have on hand.
Her idea wasn't actually the worst, though it would have been a sign of unhealthy her and Jack's relationship was. She went to the ice cream parlor he always took her to eat away their troubles and attempted to buy a few pints of her father's favorite flavor. But the store had been sold a few years back, and that flavor no longer existed. Kate fled, and just began driving, seemingly aimless.
But her driving wasn't actually aimless, as it turned out. In fact, it was a place that Randall guessed she might go to, as he and Kevin frantically attempted to track down the bride they'd misplaced. (As her wedding coordinators, they had determined rule number one is "Don't Lose The Bride.")
Kate headed for the stump under the tree by the water where we'd seen her and Jack sit together during camping flashbacks earlier this season. it was "their spot." Kate sat down and pulled Jack's urn out of her handbag. Turns out she'd been carrying it with her all this time. She'd realized it was time to stop.
Sitting on the stump with the urn tucked up against her, it was now Kate's turn to have a talk with Jack, instead of Jack comforting her. It was time, she said, she had to let go. Then she unscrewed the top of the urn....
....and the scene cut away. The next thing fans see is Kate walking back to the car, with Kevin and Randall waiting there for her.
But according to Chrissy Metz, it turns out that This Is Us did film the scene of Kate releasing Jack's ashes. It just didn't make the final cut.
Speaking to Entertainment Weekly, Metz revealed what happened in that scene:
Yeah. We did do that. I know that they're fake, and I know Jack's a fictional character [laughs], and I know Milo is safe and well, but it was really weird. Also it was freezing that day and the urn is heavy, and I was like, "Oh no, what if I don't get all the ashes out? What if it blows in the wind and it gets in someone's face?" And I'm like, "I know it's not real," but these are things that you think about — or you try not to think about. For me, if something's too emotional or too difficult, sometimes I'll laugh instead of cry, so it was hard to do.
As for if Kate had any final words for her father as she let his ashes go, Metz said she did.
It sounds crazy, but I actually said a prayer to myself, and I said, 'Goodbye for now.'
Will Kate be able to keep her letting go of her father in Season 3 now that she's married to Toby? We'll find out next fall.