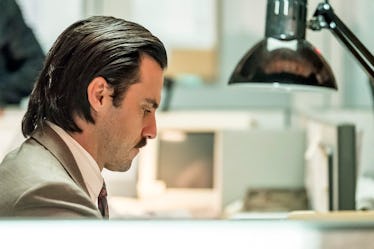 'This Is Us' Revealed A Huge Clue About Jack's Death In That Vietnam Flashback
Ron Batzdorff/NBC
The second episode of This Is Us' sophomore season filled us with Manny-in-a-diaper awkwardness, Kate's moving rendition of "Landslide," and some major insight into Jack's past. We watched the Pearson patriarch cope with the alcoholism that was affecting not only him, but his family, and we saw the tormented father open up to his doting daughter about his addiction. We also got a brief peek into a part of his history that has undoubtedly affected where he is today -- his experience in Vietnam. The quick scene offered a gut-wrenching flashback that may prove to be another This Is Us clue about Jack's death, even if its relationship to the event is abstract. This is a side of Jack that hasn't been spoken about it in detail, but viewers should definitely not count it out.
Jack remarked in Season 1 that he was a mechanic in Vietnam, but from what we can tell from last night's reveal, that's not exactly true. As Jack boxed out his frustrations and attempted to fight his demons, the audience learned that there's more to the story than previously discussed. There are a handful of mysteries surrounding Jack's life, as well as his death, and this chapter in his story is just a "new piece of the puzzle," according to creator Dan Fogelman.
When asked about how aspects like PTSD, war, and alcoholism will play into everything, he explained,
Clearly there's a new piece of the puzzle toward Jack being added on here, which is Vietnam. And the fact that you're flashing to something when he's hitting that punching bag that doesn't quite match up with what he's told his family about his experience in Vietnam is a place that we're certainly going to be exploring not just this season but as the series continues.
"I know quite a bit about Jack's past in Vietnam… there are still some questions I have but I know that also is a side of Jack that informs who he is today. I know that Jack's existence in Vietnam was impactful," Milo Ventimiglia also told The Hollywood Reporter.
There wasn't just a flashback to a fresh-faced Jack exiting a chopper in the latest episode. We also saw Jack's father drinking, as Jack looked on. It's clear that his dad's disease has affected him and that his background is a factor in his own struggles and actions, in addition to his experiences. "My father, he had a drinking problem, and I didn't want you to know about me," Jack tearfully tells teenage Kate. Perhaps we'll get more scenes of Jack's very young years at some point in the future. It would be interesting to see Jack and Rebecca as children, so we can learn even more about how they became the people they are in the '70s. And the '80s. And the '90s. And for Rebecca, today.
This season has already shown audiences pieces of Jack on his way to recovery over two time periods, and we know he attended AA at some point with the support of his wife and family. EW inquired about how Jack's drinking might affect his death directly, and Fogelman clarified without getting too spoilery: "As people have theorized that his problems with alcohol might have contributed to something that happened with the fire, I think by the time we get to the fire, people will know whether or not that was right, but I can't say right now."
Of course, the question of Jack's death is usually the big riddle in everyone's mind. "There's not a day that goes by I don't pass by someone and they don't ask me how I died," Milo Ventimiglia recently told Vulture. But with all this recent information, the enigma slowly unraveling, and so much heavy history at play, it's hard to blame America for being fixated on this fictional family and everything they've been through, including the death of a main character.
Leave it to This Is Us to leave us more and more interested every week. And right now, even as new details coming to light, it seems we still have so much more to learn.