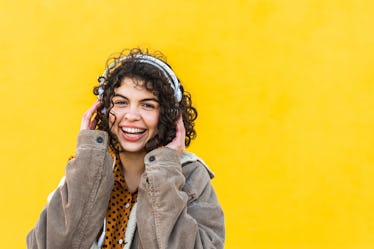 The Best Song To Listen To Before A Date, Based On Your Zodiac Sign
I am true believer in the hype song. Whether it's hitting the gym, or gearing up for a big moment at work, I love to have the right song to listen to to set the mood; a song that helps me feel my most powerful and ready to take on a challenge. But most of all, knowing the best song to listen to before a date can make all the difference between a good date and a great one, because it can put you in date mode before you even walk through the door.
What "date mode" means can differ from person to person. Maybe for you, it's about being comfortable opening your heart to someone. For others, maybe it's about pumping up the confidence so you walk in the door feeling your oats. Whatever the case may be, the right song is an incredible tool for helping you to get in that headspace. After all, summer is here, so your nights are about to get busy.
If you're not sure where to start, it never hurts to look to the stars for some advice. So, with that in mind, here's the hype song you should probably be playing next time you're getting ready for a date night, based on your zodiac sign.