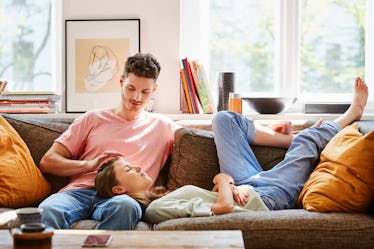 This Is The Best Age To Move In Together, Based On Your Zodiac Sign
If you've ever been through the heartbreak of being with the right person at the wrong time, you know that, more than almost any other factor, timing is super important when it comes to matters of the heart and the success of a relationship. So, of course knowing when to move in with someone is so important. While you can't know exactly what is the best age to move in together, you might be able to narrow it down to a window based on where you'll likely be in your life, based your zodiac sign.
Your zodiac sign can tell you a lot about yourself, including when you're probably going to be ready to settle down. Maybe you're a sign that needs more time to be free and single, or at least not tied down to shared utility bills. Or maybe you're a sign who is ready to make a home with someone really early on and that safety and security can help solidify your relationship. Ultimately, the time is right when you're ready, but by considering your astrology it can help what you're feeling make more sense. So, here is when you should be ready to move in, based on your zodiac sign.