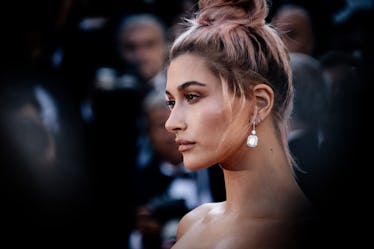 This Is How Much Hailey Baldwin's Engagement Ring Is Reportedly Worth, & OMG
Gareth Cattermole/Getty Images Entertainment/Getty Images
For those of you who haven't gotten the enormous memo, Justin Bieber is engaged! And, no, despite what many of us may have hoped or suspected, it's actually not to Selena Gomez. Instead, the pop star has actually decided to tie the knot with his good friend turned on-again/off-again girlfriend, Hailey Baldwin. And trust me, Hailey Baldwin's engagement ring is bound to make your jaw drop all the way down to the floor.
Well, actually, I can't guarantee that the ring itself will make your jaw drop (though it is a very, very, very large diamond). But I'm pretty dang sure that the price tag is bound to shock you. The reporters over at TMZ chatted with Jack Solow, the owner of Solow & Co. who reportedly sold Biebs the ring, about all of the deets.
According to TMZ, Bieber met Solow through his manager Scooter Braun. Just a few weeks ago, Bieber got in touch with Solow, a close family friend of Braun's, about buying a ring for his bae. And Bieber wasn't going to get just any ring for Baldwin. No, TMZ reports that the singer opted for "a large, elongated oval-shaped diamond between six to 10 carats."
Let me put that into perspective for you real quick. When discussing Lea Michele's four carat ring from her fiance Zandy Reich, Elite Daily chatted with Jack Danziger, of Jack + G Studio about how that compared to the average engagement ring.
"Four carats is far above average for an engagement ring," he told us. "Average center stone size being around one carat and the total carat weight with pavé or side stones being closer to two carats." Michele's was far above average at four carats. Just imagine how big and valuable Baldwin's is at six to 10 carats!
As you might have imagined, a ring of that size doesn't come without a pretty hefty price tag. While Solow wouldn't tell TMZ how much exactly Bieber dropped for the ring, a source told the publication the number was reportedly close to $500K. That's right, people. Half a mill on a piece of jewelry. Baldwin's finger is now worth more than the homes of most Americans.
TMZ first broke the news of the couple's engagement on July 8, and the two young stars took to social media shortly after to confirm it to their fans.
Along with two beautiful black and white pictures of Baldwin sitting on his lap, Bieber wrote on Instagram:
Was gonna wait a while to say anything but word travels fast, listen plain and simple Hailey I am soooo in love with everything about you! So committed to spending my life getting to know every single part of you loving you patiently and kindLY. I promise to lead our family with honor and integrity letting Jesus through his Holy Spirit guide us in everything we do and every decision we make. My heart is COMPLETELY and FULLY YOURS and I will ALWAYS put you first! You are the love of my life Hailey Baldwin and I wouldn't want to spend it with anybody else. You make me so much better and we compliment eachother so well!! Can't wait for the best season of life yet!. It's funny because now with you everything seems to make sense! The thing I am most excited for is that my little brother and sister get to see another healthy stable marriage and look for the same!!! Gods timing really is literally perfect, we got engaged on the seventh day of the seventh month, the number seven is the number of spiritual perfection, it's true GOOGLE IT! Isn't that nuts? By the way I didn't plan that, anyways My goodness does feel good to have our future secured! WERE GONNA BE BETTER AT 70 BABY HERE WE GO! "He who finds a wife finds a good thing and obtains FAVOR from the Lord!" This is the year of favor!!!!
Baldwin also confirmed the rumors on social media, writing on Twitter:
Congrats to the happy couple and here's to hoping Baldwin gets that ring insured!
Check out the "Best of Elite Daily" stream in the Bustle App for more stories just like this!