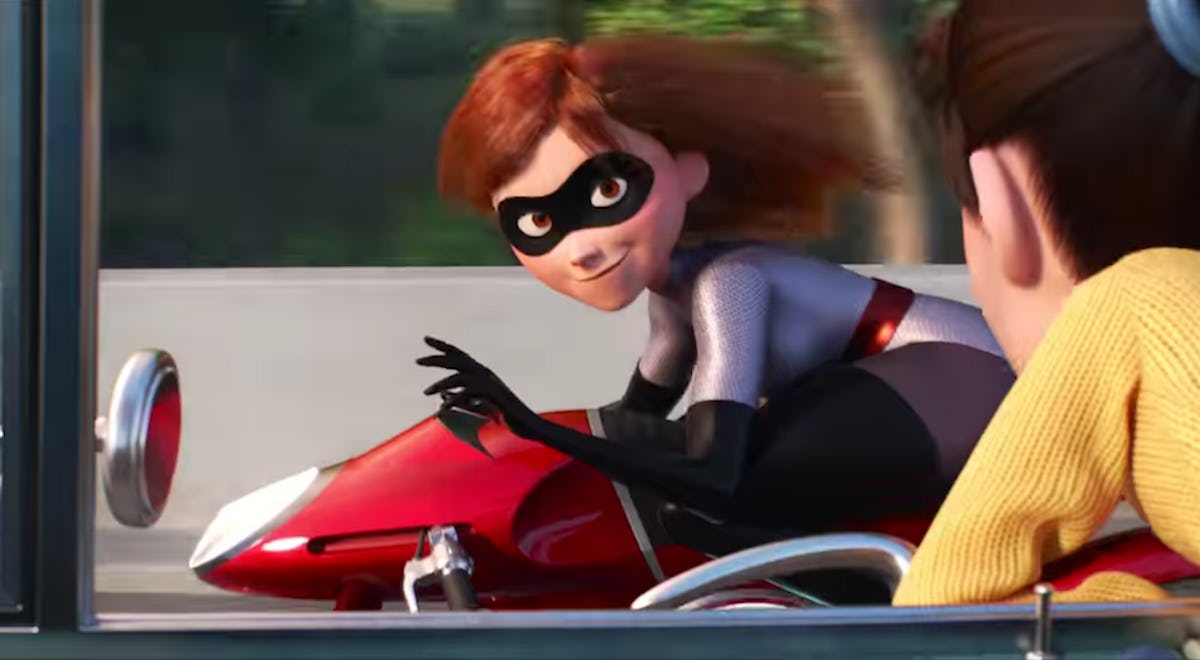 A Sneak Peek Of 'Incredibles 2' Aired During The Olympics & You Need To See It
Pixar
It has been 14 years since the first Incredibles movie (14 years!!), but we are finally about to go on another adventure with the super-powered Parr family in just a matter of months. With the intense excitement and interest surrounding Incredibles 2, Pixar has been keeping a lot of the movie under wraps, but fans got a special surprise during the Winter Olympics broadcast on Wednesday night. A new Incredibles 2 sneak peak is now giving us our longest look at the new animated superhero sequel, and it will get you so pumped!
The new trailer offers fans our first real look at Incredibles 2, since the first teaser that was released was more conceptual than actually revealing details about the movie. The first teaser dropped in November, and showed the Parr family baby, Jack-Jack, utilizing his multiple superpowers as he wobbled towards the franchise's logo. Cute, for sure, but not really informative. The longer, minute-and-a-half trailer that just dropped is the first to actually offer up some real details on what Incredibles 2 will be about.
As the trailer makes clear, Incredibles 2 will begin immediately following the events of The Incredibles, which ended with a new mole-like villain named the Underminer appearing to threaten the city. The sequel will kick off with the family's fight with the Underminer, and then face a new problem: a government restriction on their superpowers. During a family dinner, Helen Parr (Elastigirl) informs her family that superheroes are illegal, which was presumably the government's response to Syndrome's destructive rampage in Metroville at the end of the first movie.
However, that does not mean that the Parrs are hanging up their super-suits for good. Winston Deaver (Bob Odenkirk) is the CEO of a major telecommunications company, and he contacts the Parrs with a plan to bring superheroes back by revamping the public's perception of them. But this isn't a family affair — Deaver only needs Elastigirl for his plan, meaning that Helen will be out saving the world while Mr. Incredible remains Bob Parr and takes care of the family at home.
It looks like the Parrs' home life will be a huge part of Incredibles 2, as a clearly overly-stressed Bob Parr struggles to raise his kids without Helen. If Dash's math homework wasn't hard enough, Bob is also dealing with baby Jack-Jack's ever-growing list of superpowers, which now include laser vision, teleportation, combusting, emitting electricity, and transforming into a demon. Yeah... saying Jack-Jack is a handful is a severe understatement.
Along with all the new challenges, some familiar faces also pop up in the new Incredibles 2 trailer. Bob's best bud Frozone is the one who tells Elastigirl about Winston Deaver's superhero publicity plan, and he also helps Bob out a bit with taking care of Jack-Jack. The most exciting return, though, is the forcefully-opinionated fashion designer Edna Mode, who saunters in at the end of the trailer to throw some major shade at Bob's parenting abilities.
Incredibles 2 will also introduce a number of other new characters that haven't appeared in trailers yet. Evelyn Deaver (Catherine Keener) is Winston's sister and runs the telecommunications company with him; she's also described as a genius who can solve any problem. But the new addition that sounds most interesting is Voyd (Sophia Bush), who is described as an Elastigirl superfan that can also create voids that make objects appear and disappear. I think we all remember how Mr. Incredible's superfan turned out in the first Incredibles movie, so we might have to be wary of Voyd...
Check out the new Incredibles 2 sneak peek in full below:
Incredibles 2 will land in theaters on June 15.