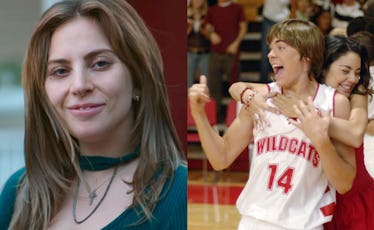 This 'High School Musical' & 'A Star Is Born' Mashup Is The Greatest Thing You'll See Today
Warner Bros. Pictures & Disney Channel
Despite following several movies with the same name and concept, A Star Is Born definitely has an unlikely but totally accurate plot twin out there in Hollywood. The latest rendition of A Star Is Born follows Lady Gaga's aspiring songwriter trying to overcome stage fright and self-esteem issues and perform alongside Bradley Cooper's jaded, struggling musician. It may be a little less gritty, but according to one fan's interpretation, High School Musical is low-key a kiddie version of A Star Is Born. This High School Musical and A Star Is Born mashup is the clever laugh you'll need today.
Coming to theaters on Oct. 5, Cooper's directorial debut A Star Is Born embodies the structure of three previous films in which a declining star seeks out the talent of a unknown performer to bounce back into notoriety. Gaga's performance has already earned Oscar buzz after early showings of the film, but before a larger audience has even seen her big screen debut, her insecure character Ally has reminded the internet of another shy young lady with incredible talent.
Writer Nicole Boyce recently set the audio of the A Star Is Born trailer to footage from Disney's 2006 TV film High School Musical, casting Gabriella Montez as Ally and Troy Bolton as the grizzled Jackson Maine. Toss in the spectacular comparison of Corbin Bleu's Chad to Dave Chappelle's character, and this mashup (A High School Star Is Born? A Star Musical?) is the crossover we all need.
Although Chad's concern for Troy (Zac Efron) originally stemmed from the basketball player's experiments with musical theater, the intervention scene provides perfect fodder for Chappelle's Noodles expressing his own worries for Jackson. While star athlete Troy was more reluctant to pursue music than the professional performer Jackson is in A Star Is Born, Gabriella (Vanessa Hudgens) and Ally share an intense fear of singing in front of others. The drama of High School Musical is more G-rated than what the actual A Star Is Born trailer promises, but the wild Disney antics that the mashup includes certainly fits Gaga's melodious ahh-ing during "Shallow."
Twitter users are dying over the special creation, and if A Star Is Born turns out to be disappointing for some viewers, it's nice to know they can just play this footage on a loop to ease the pain.
As Teen Vogue points out, High School Musical has been on the receiving end of epic movie crossovers before. YouTuber Elle Mills mashed together the worlds of High School Musical and Mean Girls in 2017, swapping out Lindsay Lohan's Cady for clips of Gabriella and replacing the hunky Aaron Samuels with Troy Bolton. Those clips are pretty fetch, but Gabriella and Troy's own love story is definitely on par with the epic scale of Gaga and Cooper's onscreen romance. Singing about falling off the deep end in "Shallow" is just as magical as soarin' and flyin' in "Start of Something New," right?
A Star Is Born is in theaters on Friday, Oct. 5.