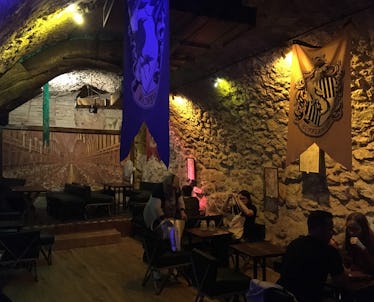 The 'Harry Potter'-Inspired Leaky Cauldron Coffee Shop Is The Most Magical Addition To Your Bucket List
Instagram/Anneli_
PSA to the Potterverse: I'm ecstatic to announce that I've finally discovered the whereabouts of the famously elusive Leaky Cauldron pub, and no, it's not in London. Amidst all the Harry Potter-inspired ventures that have been cropping up over the past couple years, an ode to the iconic pub featured in J.K. Rowling's series has popped up in Poland, and the aptly-named Leaky Cauldron looks seriously so legit. This Harry Potter coffee shop includes Butterbeer, Dementors galore, and even an entrance to the Ministry of Magic within the most magical, cave-like space, so BRB while I grab my broom and fly over to Kraków to hang with Harry and the gang.
Like its namesake, the Leaky Cauldron coffee shop can be difficult to spot, according to TripAdvisor reviews. Per photos of the entrance, you'll be greeted with a small blue sign saying "Dziorawy Kociol" (Leaky Cauldron in Polish) along with a large carved owl. Muggles who get the Potter reference can enter the hallway and head downstairs to an underground cave that's decked out in full Hogwarts regalia.
With a menu modeled after a spell book, the soundtrack of Harry Potter playing in the background, a roaring fire, and brimming mugs of Butterbeer, it's pretty much guaranteed to give you all the feels. After a couple mugs of Butterbeer, I wouldn't be surprised if you start breaking out into one-liners like "You're a wizard, 'Arry" or attempting to snag one of the Hogwarts acceptance letters hanging from the ceiling. It's the perfect place to channel your inner Gryffindor (or Slytherin, if that's where you lean). Just make sure you bring your best Patronus charm to scare away the Dementors lurking in the corners and take a moment to check out the drawings of your favorite characters on the walls.
According to TripAdvisor reviews, the spot boasts all sorts of hidden homages to the series if you know where to look for them, which makes a visit to the coffee shop almost like you're on an adventure with Harry, Hermione, Ron, and the crew. For example, head to the bathroom, and you'll be surprised with a sign that reads "Ministry of Magic This Way" on a toilet seat lid.
In addition to the "sweet and creamy" Butterbeer which you can order both hot and cold, there are a slew of other fun themed confections on offer like Madame Maxime's soufflé as well as jelly beans in every flavor.
Visitors also recommend ordering a "Fortune Cookie" and checking out the small library and gift shop, as well as wearing warm clothes during your visit (it's stone and underground, so it's bound to be a little drafty). There's two rooms that you can choose between to customize your experience: One that's brighter and has board games and a darker one that features ghosts on the walls (you can apparently hear them wailing) along with a crackling artificial fireplace.
In other words, all these cool details definitely makes this cool coffee shop a must-visit on my bucket list and basically the bucket list of any Potterhead, so I'll be drafting my "OOO" and planning a trip over to Poland ASAP. Fancy a pint of Butterbeer, Hagrid?