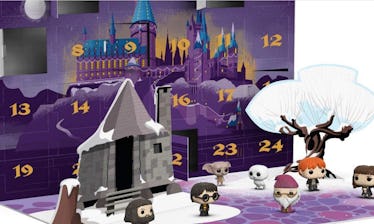 Save All Your Galleons, Because This 'Harry Potter' Advent Calendar Is Dropping Soon
AMAZON.COM
If the owl bearing your Hogwarts acceptance letter got lost en route to your home and you're still pretty salty about the whole thing, you're going to be so excited about the latest and most festive development from the Potter Universe. 'Tis the season to start looking ahead to the merriest time of the year while wrapped up in a Weasley sweater and holding a brimming mug of Butterbeer in hand, because this Harry Potter Advent Calendar now exists to let Muggles get in on all the magic this holiday, no wands or spells necessary. Forget Halloween and let the countdown to Christmas begin, y'all, because these adorable Harry, Ron, and Hermione figurines will definitely get you in the best spirits.
Funko, aka the wizards behind the cuter-than-cute "Pop" figures, revealed via a blog post that 24 mini versions of your favorite Harry Potter characters could be gracing your homes this Christmas, courtesy of a one-of-a-kind advent calendar that's basically a Potterhead's dream in a box.
Per the post, here's what you can expect: "Featuring the Wizarding World's favorite witches, wizards, beasts, ghosts and house elves, this Harry Potter advent calendar promises a very jolly Christmas indeed, especially when paired with treacle tart and a mug of hot Butterbeer," the site reads. According to the description, you can definitely expect a pocket-size version of your favorite trio as Ron Weasley, Hermione Granger (with a time turner!), and of course, Harry Potter, "the boy who lived," will all be making a nostalgia-inducing appearance.
While the identities of the rest of the 21 figurines are being kept under wraps, one promo photo shows that Albus Dumbledore, Dobby, Hagrid, and Hedwig will all be part of the mix. Of course, you won't know until you pop open your box, but I have a feeling that essential characters like Sirius Black, Bellatrix Lestrange, Professor McGonagall, Professor Snape, Draco Malfoy, and Neville Longbottom will also definitely all make the cut. There's even the very, very high likelihood that you'll be in possession of a miniature Voldemort toy, which is a terrifying prospect.
The calendar isn't available for order quite yet, which means you have plenty of time to start stashing away your gold galleons and practicing your "Wingardium Leviosas" before the Hogwarts crew arrives on your doorstep via owl. However, because demand is bound to be extremely high, I'd recommend pre-ordering the calendar right now on Amazon for $54.99. According to the item's description, it will ship out on Nov. 17, so I'd expect the calendar to be in your possession around Thanksgiving. So there's plenty of time for you to hype yourself up and maybe even get in on Jelly Belly's Hogwarts-inspired chocolate treats before then.
If paying about $55 for an Advent Calendar sounds a bit steep, let me remind you that unlike most calendars that help you count down to Christmas with chocolate or other candies, the Harry Potter edition is filled with toys that you can keep long after you've thrown out your Christmas tree and taken down the tinsel. Plus, all that Potter nostalgia you're going to be feeling? Priceless.