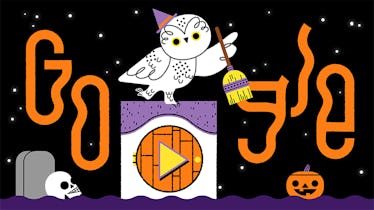 Choose Between A Trick Or A Treat With This Super Cute Google Doodle
Besides being a super fun name to say, Google Doodles are also informative little designs. Usually, the Doodle brings you straight to a Google search with info on Doodle subject, but this Halloween Google Doodle is bringing some spooky interactive fun to your day with help from the World Wildlife Fund (WWF). Click on the Halloween Google Doodle to start a fun trick-or-treat game, and you might even learn something new.
Before you click on the Halloween Google Doodle, you will see the Google logo all dressed up for the holiday, with a black starry background, an owl with a witch hat and broom, a jack-o'-lantern, and a little tombstone. This illustration alone is enough to put you in the mood for #spookyszn, but there's a lot more when you click on the "play" button in the middle.
Once you click play, you will be brought to a screen with a little block of houses. Click on each door to discover which animal lives behind it. Then, you'll see a fun, animated animal who is typically associated with Halloween, and you'll have the option to click "trick" or "treat." Choose whichever you like, as you'll have the chance to click both cards. The "trick" option will show the animal performing a trick for you. It's way too adorable to give away what each animal does, so find out for yourself. When you click on "treat" you will discover a fun fact about that type of animal, thanks to the WWF. Featured animals include an owl, a tarantula, a jaguar, an octopus, a wolf, a spider, and a bat.
Of course, what would this Google Doodle for Halloween be without a festive tune? The background music is just as cute as the animation. When I was testing it out, I clicked through everything on the screen and discovered that there are other interactive items in the spooky little neighborhood. For instance, the weather vane and antenna both move when you click, as well as the jack-o'-lantern and the potted plant, and the chimney blows smoke with a click. Meanwhile, the hidden inhabitants will occasionally beckon you or move behind their doors to get your attention.
Once you have clicked through each of the doors, you'll be brought to a page that shows all of the animals celebrating together. You'll have the ability to share this fun Google Doodle and wish your friends a "Happy Halloween" via Facebook, Twitter, or email. Per an official press email from Google, the Doodle is live for 24 hours, expiring at 11:59 p.m. ET on Oct. 31, and it will appear on Google pages for 40 different countries.
TBH, this Halloween Google Doodle might be the cutest take on spooky themes and animals that I have seen yet. And thanks to the guidance Google received from WWF, you get some fun facts about animals, too. I love that these misunderstood creatures, such as tarantulas and bats, get a little love this season thanks to this adorable Google Doodle. Oh, and if you show up late to your Halloween party because you couldn't stop playing with the Doodle, you can totally make up for it by wowing the crow with your newfound animal facts.