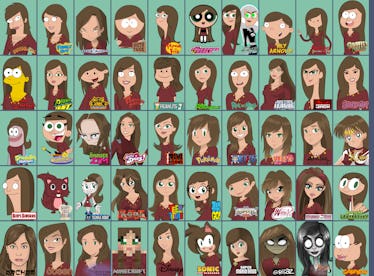 This Girl Drew Herself As Your Favorite Cartoons & TBH, She's Spot On
Sam Skinner
Don't get me wrong — I really love art. In fact, I'm quite passionate about it. But ogling over the gorgeous works of others is just a constant reminder that I have zero artistic talent. Seriously, none — I cannot draw for the life of me, and it's devastating. And when you see the the works of this girl who drew herself as your favorite cartoons, you will be incredibly jealous of her capabilities. I know I am.
Samantha Brooke Lundien Skinner is a 24-year-old student and artist from Kansas City, Kansas, whom Elite Daily was able to get in touch with about her latest creation. Like any typical student, Skinner doodles in her free time. But these aren't your run-of-the-mill boxy S's and cubic doodles (aka all of my best works). In fact, Skinner took the time to draw herself as 50 different cartoon characters, and the result is totally mind-blowing.
Skinner illustrated herself as characters from Sonic, The Fairly Odd Parents, Teen Titans, Hey Arnold!, and even Bob's Burgers. Honestly, she included pretty much any cartoon you could possibly think of. Heck, she's even got Danny Phantom in there. And each of them look SO on point. This is so far beyond my artistic capabilities, but I desperately wish I could do this kind of thing. Since that's never going to happen though, I'll just admire hers. Check them out below — they're seriously amazing.
Skinner says that the whole project took about a year to finish, including a semester she had to take off to focus on school. She started out by sketching each characters' eyes, and then she went from there. She's really humble about the whole thing, but let's be honest — this definitely earns some major bragging points. It really blows me away.
According to Skinner, she didn't initially expect her cartoons to gain so much attention. In fact, she says she really only decided to give the challenge a shot, because so many other artists were doing it online, and she got inspired to follow suit. She also mentioned she wants to ideally develop a cartoon design for a web comic with a friend, and thought this would be a good start.
Skinner tells Elite Daily,
I decided to do the challenge because I've seen so many people do it online and I was absolutely inspired by them. Doing this project was simply to help me become more familiar with doing graphic/digital design. That being said, a few of the characters in the style challenge are definitely more original than others, mostly because this was simply a project for me to practice digital line work, so a few came out looking like a basic re-colorization of a character which already exists. Take the Sailor Moon one for example, I've always wanted to be Sailor Mars, so I took this opportunity to be like 'Hey, what if I WAS Mars?' and went with that.
Ideally, Skinner says that she wants to pursue something creative, whether that means becoming a TV cartoonist or working with Hallmark, in some way, shape, or form. She says she isn't entirely sure how she wants to pursue her artistic talents, but she definitely has some time to think about it. Regardless, it's clear that she'll nail whatever she ends up pursuing, one drawing at a time.
TBH I am pretty envious of Skinner's artistic abilities — it's painful. But it's clear this is something she's truly passionate about, and she definitely has a knack for it. I guess I'll just admire her talent from afar, and continue working on my glorified stick-figures. Don't mind me.