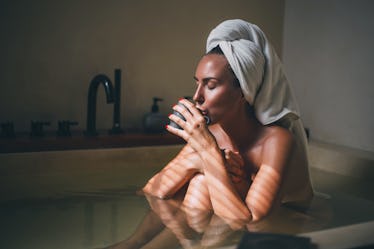 These 8 Pics Of Scotland's New Gin Spa Will Make Your Boozy Dreams Come True
Scotland is changing the spa game, and if you can imagine a place that tailors to your every need, this place is it. Spas are all about relaxation, right? Well, the new Gin Spa in Scotland is the stuff of dreams. Even if you don't drink, this spa will make you feel like you just stepped into a euphoric corner of the world that has a tremendous amount of gin-inspired factors.
First of all, you get to pick which aromatherapy you want and you're greeted with a welcome tea. Tea immediately gets you unwinding and from that first sip, you know you are about to loosen up and enjoy yourself. OK, so far they've got your taste and smell senses satisfied, but what about your mind? Covered. You also get to choose inspirational cards to read before you head in. Kind words send you on your way to an even gentler treatment.
Personally, I like to feel like a place is putting my individuality in mind, and that's why I love how the spa's facials are veered towards your skin type. This aspect is so, so amazing and greatly appreciated. Words hardly do this place justice, so seeing pictures to match the excellent descriptions are a must. Hopefully, you have your passport ready to make all of your boozy dreams come true.