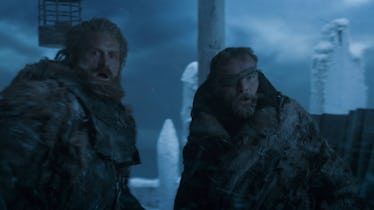 There's A 'Game Of Thrones' Hotel You Can Actually Visit, White Walkers Included
HBO
It's a running joke in the A Song of Ice and Fire fandom that the novels (and the show) only have one hotel in the entirety of Westeros: the Inn at the Crossroads. It's the place where three roads and every group of characters seem to meet. Think Cheers, but with people yelling "Hotpiiiiie" instead of "Noooooorm." Well, the Crossroads Inn has a little bit of competition this winter as a new Game Of Thrones Hotel opened in Finland. Unlike the cozy fires and the good stews of our regular Inn, this one comes complete with the comforts of winter, including Faceless Men and White Walkers.
All joking aside, for those who are already planning to do a European trip to check out the sites of Westeros in Iceland, it's not that far a hop by plane to the Lapland Hotels SnowVillage, which currently features the all-ice palace created in collaboration with HBO Nordic.
Ice Hotels are not that new. The first one, which is in Sweden, was opened back in 1990, before the A Song of Ice and Fire books even existed. It was called Icehotel, and it gets rebuilt every December since. Everything in it is created from ice, even the chairs and beds, with each room delicately carved and created by different architects.
From there sprang up ice bars (mostly serving alcohols like vodka) and other chilly delights. This is the first Ice Hotel themed after a TV show.
The Lapland Hotels SnowVillage takes things a step further, though. Their hotel is more of a mini ice convention center, including a chapel, bar, and a restaurant spread out over 20,000 square meters. Yes, the chapel is there to do weddings, for those who need to get married in romantically cold quarters. The bar serves their drinks in carved ice glasses.
Thankfully, the ice restaurant uses real plates, and despite the barrenness of winter, they're not worrying about grain store numbers like Sansa, but instead are serving up reindeer steaks and arctic chars. No word if dragon fire is used to cook the dishes served.
As for the places to stay overnight, there are 14 bedrooms and 10 suites. Like the original, every room in the Lapland Hotels SnowVillage is intricately carved with images from the series.
The above image shows a bedroom featuring a giant White Walker sculpture. Another has a giant, free-standing carving of The Mountain That Used To Ride But Now Rots In His Armor. (We assume the smell is not included.)
Another room has the Hall of Faces that doesn't look that different from the Game of Thrones pop up bar that graced Washington, D.C. not too long ago.
Lest fans think there are only snow creatures here, never fear. Dragons are well represented, too, with one that forms a giant ice slide for visitors to enjoy sliding away on, while another is the guardian saint of the bar.
And once you're drunk enough at the bar to keep warm outside, the hotel offers sights of the Northern Lights. (But that's a completely different series.)
A one-night stay at the Ice Hotel can run anywhere starting from $200 U.S. dollars a night (that's £148 or €167) and up, depending on how large a room you book. Entry into the SnowVillage costs an additional $18 (£15 or €17).
But you better hurry. Bookings for this hotel are only available until April 8, 2018. After that, it will all melt away like a dream. Will they rebuild it for 2019 when the show returns? We can only wait to see what next winter brings.