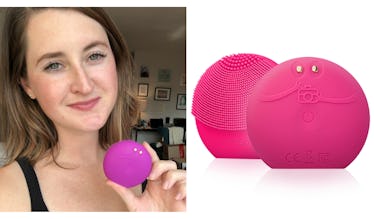 The New Foreo Cleansing Device Uses AI To Tell You How Moisturized Your Skin Really Is
Courtesy of Daley Quinn // Foreo
There are a million options out there when it comes to choosing how to cleanse your face every day. I usually wash with a muslin cloth morning and night, but because I'm fortunate enough to work as a beauty products lab rat, I feel compelled to share my Foreo Luna Fofo review.
I should start off by mentioning that I don't use cleansing devices very often. I own the Clarisonic Mia Fit Facial Cleansing Brush ($219, clarisonic.com), the Nu Skin ageLOC LumiSpa device ($199, nuskin.com) and the Foreo Luna Mini 2 ($139, foreo.com), and while I like each of them for different reasons, I only ever use them when I feel like my skin is super nasty and needs a deep clean (so, like, about once every two weeks). I have very sensitive (Irish) skin, and my dermis can't handle too much abrasion every day or it completely freaks out.
But thanks to the new Foreo Luna Fofo device ($89, foreo.com), I can actually see (with a legit analysis) how stressed out my skin is. The new Luna Fofo is very similar to the Foreo Luna Mini 2, but with one major addition: Its 24K gold, hypoallergenic sensors can actually read your skin's hydration levels. Like bringing that Sephora Moisture Meter into your own bathroom, the Luna Fofo can tell when you've pounded too many tequila shots the night before (i.e. your skin's probably low in moisture), and how much that hangover is affecting your appearance (i.e. your skin might look seven years older than you actually are).
The device is pretty simple to use, and pairs up with the Foreo For You app on your phone to show you your results. Once you've downloaded the app, it will ask you to hold down the button on the back of your Luna Fofo for five seconds so they can sync together. Then, the app will ask you to press the sensors to your right cheek, then your left cheek, then your forehead, and finally your nose. The whole process takes about 30 seconds. After each part of your face has been analyzed, the app gives you your results for skin moisture level, skin age, and overall skin score.
I tried this device for about a week, and tested my results as often as I could. (Note that the company suggests you analyze your results once every two weeks.) I noticed that my scores were pretty consistent and that my "skin score" averaged in the 50s out of 100 each time I tested it out. My skin moisture level fluctuated from high, to normal, to low, and then to normal again, and I noticed that it could decipher when I was using my moisturizer and drinking more water (and less tequila) and when I wasn't. Most of the time, it told me my skin looked my age, but one time, I looked two years older than my actual age, and another time, I apparently looked two years younger.
After each analysis, the Luna Fofo gives you a customized skincare routine, where it tells you for how long you should be applying the device onto specific areas of your face. Additionally, the vibrations and intensity of the Luna Fofo varied each time I analyzed my skin and then washed my face.
I love that Foreo is tapping into AI and implementing it into their devices, and I think the Luna Fofo is a great start. I wish there were more data offered in the app, like how much pollution might be affecting my skin or which skincare products I should be using specifically, but for the relatively low price of $89, I think this cleansing device (with super advanced tech) is a total steal.