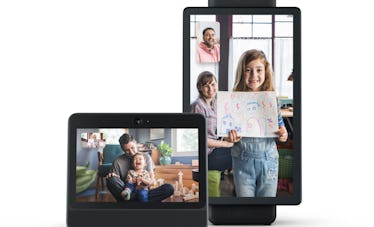 Facebook's Black Friday Deal Will Get You $50 Off Its New Portal Devices
Facebook Portal
Let's be real: Calling someone via FaceTime or Skype can be a bit challenging while you're multitasking. Why? Because you usually need to carry your phone around the house with you in order to stay in the frame. Sure, you can just leave your phone in the corner of a room walk in and out of the video, but doesn't that defeat the purpose? If you're an avid video-chatter, you probably know about Facebook's Portal devices — because they make video calling a lot easier. You might also know about the Facebook Portal Black Friday 2018 sale. If you don't, I'll give you the lowdown — because, trust me, anyone who makes video calls on the reg will want to take advantage of the upcoming discounts.
Before I get into the Black Friday Facebook Portal sales, let me give you a brief summary about what the Portal actually is. For starters, Facebook's Portal and Portal Plus are video-calling devices that boast crisp displays, smart cameras, impressive sound systems, and powerful microphones. The Portal is the smaller option of the two, which normally retails for $199. The Portal Plus, on the other hand, is larger — and it sells for $349. I'll get into more details about each device later, but that's the basic overview of the products.
As you can see, each device will cost you a pretty penny — but they're definitely worth splurging on if you make frequent video calls. If you'd rather spend less money on one of the products, though, you're in luck. In honor of Black Friday and Cyber Monday, each Facebook Portal product will be on sale. In other words, get your wallet ready and start scheduling high-definition video calls with your family and friends.
According to Facebook, both the Portal and the Portal Plus will be on sale from Nov. 22 at 11:59 p.m. local time until Nov. 26 at 11:59 p.m. local time. During that time frame, the Portal will be on sale for $149 and the Portal Plus will be on sale for $299, per Facebook. In other words, each product will be $50 off between Black Friday and Cyber Monday, so make sure you take advantage of the deals before they're gone.
Outside of the Black Friday sale, you can still save some money on the Portals if you plan on buying more than one. If you bundle any two Portals, you save $100.
Now, you're probably wondering where you can purchase the discounted Facebook Portals. Luckily, they're available in more than one place. In order to score the deal, visit Facebook's Portal website, Amazon, or Best Buy. Just keep in mind that the discounted devices will only be on sale in the United States — so don't try to score the deals when you're on vacation in another country.
OK, back to the actual Portals. As I previously mentioned, the Facebook's Portal is smaller than the Portal Plus. It has a 10.1-inch display as compared to the larger, 15.6-inch display of its counterpart. If you're having a hard time deciding between the two, take into consideration how many people you'll be having on your side of the video calls. Why? Because the Portal Plus has a camera that'll rotate to a portrait landscape and capture everyone in the room. If you aren't sold yet, you can compare both devices on Facebook's Portal website and see which fits your needs best.
Regardless of which one you choose, you'll get it on sale if you buy it between Black Friday and Cyber Monday. If you're a fan of video calls, this might be the best deal of the season for you.