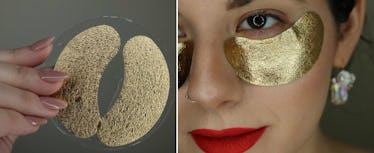 I Tried Golden Masks For Undereye Bags & I've Never Felt So Bougie On A Budget
Kim Carpluk
Half of the reason why I move through all the steps of my beauty routine is to enjoy the ritual. There's no better mood booster than donning a silk robe, slathering your face in creams, and feeling glamorous as hell. If you're in the market for a new self-care treat, then this eye mask review will have you hightailing it on Sephora in no time. The Wander Beauty Baggage Claim Gold Eye Masks ($25; Sephora) prove that you don't have to sacrifice form for function, because products that make for amazing selfies can still deliver impressive results.
I love all beauty products, but masks comprise my favorite skincare category. In our society of fast delivery and instant results, masks satisfy even the most impatient skincare user. Of course, you should maintain results with eye creams and moisturizers, but if you need a quick fix, a mask can plump, hydrate, soothe, and brighten faster than you can say self-care.
I'm a very sensitive human, both physically and emotionally. I'm literally allergic to the cold. Seriously, this is a diagnosis I received straight up from a doctor. During the winter, my eyes easily get swollen and puffy, making my hooded eyes look pretty much non-existent. Plus, I'm a (frequent) ugly-crier. If I cry at night, I'll wake up in the morning with the most puffy and painful eyes of all time.
Sometimes, my swollen lids make it pretty much impossible for me to apply makeup. So I rely on under eye masks quite a bit to fix my stubborn and sensitive eyes in a flash.
So when I saw the new Wander Beauty Baggage Claim Gold Eye Masks ($25; Sephora), I pretty much slapped them onto my face immediately. I'm a sucker for cute names, and does it get much pithier than "Baggage Claim" for your under-eye bags? Plus, if they're good enough for a former Victoria's Secret angel (Wander Beauty founder Lindsay Ellingson), they are probably good enough for me.
In each package, you receive six sets of gold masks that are quite possibly the most Instagram-worthy under eye masks I have ever seen. At under $5 a pair, you can feel bougie on a budget.
Now this morning, my under eye area wasn't particularly swollen, but I did have a bit more darkness and baggage than usual.
I've been living on minimal sleep and a prayer the past few days, and my face is starting to show it.
The masks are comprised of three layers. The top layer is gold foil, which retains heat and locks the luxurious ingredients against your skin. Heat allows for better absorption of the product so you can get the most bang for your buck. The middle layer is elastic, which holds the mask in place so it doesn't slip and slide around your face. The last layer is made up of cellulose fiber which delivers the effective ingredients of hyaluronic acid, aloe leaf extract, and lavender oil deep into the skin. Though the masks themselves retain heat, the cooling effects of the aloe will help to de-puff the under eye area. You get the best of both worlds.
The masks were super juicy, which is grand. I hate when masks don't contain enough of the serum to really saturate the eye area. They're so saturated that when I opened the mask, a bit of the serum flew out at me. I'm not mad at it.
I applied each mask onto my orbital bones and made sure there was a little space between the edge of the mask and my lash line. You don't want the serum to get into your eye, trust me. I lightly tapped on top of the masks with my ring fingers to make sure they were properly adhered and flat against my skin.
Seriously, the masks are so Instagram worthy, it's insane. Wearing them gave me Gustav Klimt vibes, most likely due to the gold foil. My friend Celeste responded to the video on my Instagram story and basically agreed.
Though the recommended wait time is between 10 and 15 minutes, I sat with my patches on for half an hour. If you're in a hurry, I suggest applying your eyeshadow as you let the masks sit below your eyes. This will catch any fallout and make the best use of your time.
After half an hour, I simply removed my patches and tapped in the excess serum.
My under eye was visibly brighter, particularly in the area directly below my pupil. Plus, the small amount of swelling along my lower lashline had subsided and was a lot smoother.
The Wander Beauty Baggage Claim Gold Eye Masks prove you can snag noticeable results and capture an #extra selfie, simultaneously.