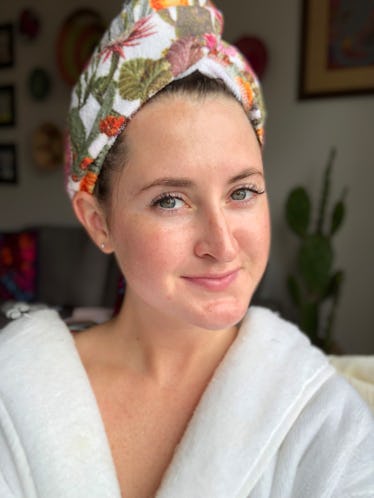 I Tried The Eve Lom Radiance Transforming Mask & The Glow It Left On My Skin Is No Joke
Courtesy of Daley Quinn
If you don't believe that fancy face masks are capable of curing everything that's ailing you, think again. Whether you're dealing with a nasty breakup, are hungover AF, or just desperately in need of a #treatyoself moment, let my Eve Lom Radiance Transforming Mask review convince you to believe in the healing magic of masks.
If you're a '90s girl, I'll bet the first face mask you ever slathered onto your pimpley little face was the original Queen Helene Mint Julep Masque ($2, walmart.com). A fan favorite at almost every slumber party, the thick, green clay was always fun to put on, but sometimes, it felt impossible to take off. Face masks have come a long way since then, and many beauty brands are moving away from detoxifying clay formulations and onto more moisturizing options. One of these said brands, Eve Lom, is well-known for its incredibly hydrating Original Balm Cleanser ($80, Sephora), and, to my delight, just recently added another moisturizing must-have to its lineup.
The new Radiance Transforming Mask ($90, Revolve) is honestly one of the thickest masks I think I've ever put on my face, and I'm totally into it. Since I suffer from hormonal acne, I usually steer clear of super thick masks, but ran into zero problems (or pimples) with this one. Formulated with multiple oils, including hemp seed oil, grape seed oil, and sunflower seed oil, this formula really did bring radiance back to my dry, sensitive skin.
My skin before applying the mask:
I first tried this mask right after stepping out of the shower. I used my new Louvelle RIVA Hair Towel Wrap ($30, louvellewear.com) to get my hair out of my face (but also just to feel fancy) before I slathered the mask onto my clean, dry skin. The first thing I noticed was how thick and luxurious this mask felt, and how I could just tell from the feel that it would be effective in moisturizing my skin. The instructions said to leave the mask on for at least 30 minutes, which is significantly longer than the usual five to 10 minutes other masks typically require.
My skin during the mask treatment:
I set my timer, and when 30 minutes were up, I headed to the bathroom to wash off the mask. I then realized that my building had a "water shutdown" all day, so I sneakily ran some hot water from my sink onto a muslin cloth, and then wiped the mask off with the damp cloth. Unfortunately, I didn't get to experience the "soothing milk rinse" that's supposed to occur when you're washing the mask off with running water, but still, my skin felt pretty incredible following the removal process.
And my glowy skin after removing the mask:
Not only did my skin look more hydrated, plump, and supple after I removed the mask, but it felt thoroughly quenched, and as I sit here writing my review about it hours later, I'm still feeling the moisturizing effects of the treatment. Plus, I didn't feel like I needed to apply any added moisturizer or serum after the removal, which is sometimes the case with other "moisturizing" masks.
The Radiance Transforming Mask not only pushes major hydration into the dermis, but it also contains a natural source of AHA extracted from Lime Pearl Caviar, an Australian fruit, to gently, yet effectively, exfoliate your skin and promote cell turnover. While my skin did feel more radiant after the first use, I would think that you'd have to use this mask at least once a week to really notice it gently exfoliating dead skin cells. A few other beneficial ingredients in the mask include Micro Algae Extract, which improves skin oxygenation, and a unique mineral complex, which protects skin from free radicals and environmental stressors.
This week has been one of the most stressful and busiest weeks I've had in the last three or so months, but I honestly felt like my Zen was restored after taking 30 minutes to wrap up in my hair towel and bathrobe and finally relax under another mask I will be sure to add to my rotation.