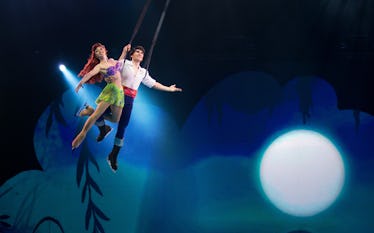 This Couple Is Living Their Real-Life Fairy Tale In 'Disney On Ice' As Eric & Ariel
Feld Entertainment
Let's be honest — there was a time when you were a kid when all you wanted to be when you grew up was Ariel, and/or an ice princess (second choice). Well, I'm happy to tell you that dream is, in fact, a possibility. Which one? Well, both. Meet Alex Goncharuk, 25 — otherwise known as Ariel from Disney's The Little Mermaid in the latest Disney On Ice production, Mickey's Search Party.
This is one mermaid, though, who doesn't do a lot of swimming. In fact, Goncharuk spends most of her time either swirling across the ice or swirling through the air in the arms of her very own prince. And when I say, "her very own," I mean that literally. The Eric to Goncharuk's Ariel is actually her own real-life husband, Artem Kazakov, 27. Together, the pair acts out a fairy-tale romance in their real lives in front of an admiring crowd. "For us, playing any roles, [is about us] showing the love, and feeling the love. It's always about us," Goncharuk tells me in an interview for Elite Daily.
"For us it's our main goal," Kazakov adds. "We really want to show the audience what we have inside of us, what feelings we have between us."
Goncharuk points out that they have an upper hand when it comes to convincingly portraying a romance like Ariel and Eric's. "They're really close to us."
It's good that they feel so close to the characters, because they spend a lot of time playing them. The couple, who has been married for two years, works touring the country with Disney on Ice to bring their IRL fairy tale to excited kids around the U.S. And while the show itself clocks in at just under two hours, that doesn't mean it's not intense.
There's so much trust in each other.
The couple's skate to "Kiss The Girl" is the final number of the show before the closing song, meaning there's a lot of pressure for a showstopper. And they deliver: In fact, the pair spends a solid chunk of their performance time not on the rink but in the air above it, suspended by straps from the ceiling that pull them high above the ice to twirl in acrobatic swoops and spins. It's wildly impressive — particularly one move, where Goncharuk drops from Kazakov's embrace into a graceful backbend while balancing on the tops of his feet, all while spinning through the air 28 feet above the ice.
"There's so much trust in each other," Goncharuk tells me. "If we tried something new I would always trust him. If I'm thinking something's going to go wrong, or I'm going to fall or anything ... he's going to hold me as tight as possible. It's perfect."
So, what's it like to play Disney characters for a living? For Goncharuk and Kazakov, most of their day is rehearsal, and that's a good thing considering the kind of stunts they have to do. They start their day at noon and go through the choreography and the stunts, particularly the aerial straps.
Anytime when you see the happy face of the kid or the parent or anyone that's in front of you, that's my goal.
Though the two have both been skating since they were children, they say the straps were difficult to learn because they require a whole new type of strength. In fact, it took 10 weeks to nail down how to use them. "It was really hard," she says, "because [as a skater] you've never been using your upper body as much as right now." The two had to add in extra upper-body workouts to their routine to get the muscle needed to pull off the acrobatics. Even on their days off, they hit the gym to maintain their strength.
But it's all worth it at showtime, when the lights go down at about 7:00 p.m. "For me personally, having the kids smiling at you every time when you go on the ice ... anytime when you see the happy face of the kid or the parent or anyone that's in front of you, that's my goal," Goncharuk says.
While she loves seeing the happy faces day after day, that doesn't mean the job can't still be wearing. Because Mickey's Search Party is a traveling show, days not spent performing or rehearsing are often spent traveling, tucked into a tour bus or a plane. In the eight-month tour, the show is expected to visit a whopping 27 locations, where they will do a few days of shows and then be on the move again. The cast has to keep their things well-packed, knowing that every Sunday they'll be picking up and leaving. "It's just hard," she says. "Some people think you just travel a lot, seeing the world. Yes, this is a part of our job as well, but sometimes it's complicated."
But it also makes the cast very tight-knit, since they're together all the time. "We really love each other," Goncharuk says. She notes that many people in the cast come from different countries. Goncharuk and Kazakov themselves are both from Moscow, and have been in the United States since 2014. "We're a kind of family as well," she says of the cast. "My family is really far away right now and all I have is my husband here."
Now we're happily married ever after.
Though Goncharuk is the more talkative of the pair, when I ask how they got together, it's Kazakov who wants to tell me the story. He says the two met when they started to pair skate together, and he knew quickly that she could be the one. He explains, "We met each other, we looked at each other from a distance, then we start to skate together, then we start[ed] to feel for each other."
"Except I was talking a lot," Goncharuk interjects jokingly. "Not like Ariel."
They say despite the pressures, performing together has only made their relationship stronger. "I was thinking about it, how it's going to affect our relationship," Kazakov muses. But he says it's worked out great. "For us, it's really worked well. And now we're happily married ever after."
Goncharuk calls her career as an IRL princess, with a prince and all, a dream come true — but that doesn't mean she didn't work for it. After all, there are no magic wands or sea witches in real life. "Just keep moving all the time. Don't stop, and never give up," she advises. "All the power you have, if you're giving it to this, all that dream, it's just going to happen."
And for all the similarities between the real-life couple and the Disney one, there's one that Goncharuk clearly thinks is the best. "It's not just me, it's not just Ariel," she says. "She finally got her prince. She's got to kiss him — and I'm kissing him, and this is my favorite part."