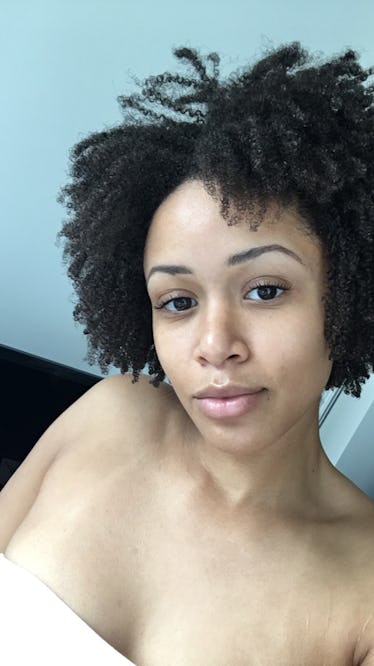 My Trip To The DevaCurl Salon Proved Wash-And-Gos For Natural Hair Are Possible At Any Length
Kayla Greaves
After many (and I mean many) failed attempts, two years ago, I finally made the decision to go natural. And while I wouldn't want to wear my hair any other way now, this journey was definitely not an easy road. After nearly 20 years of relaxers and flat irons, learning to accept my hair in its natural, kinky state was so scary, but now, I have never felt more confident. I've finally gotten a routine down, and my hair is growing faster than ever. Still, like all naturals, I have to deal with dreaded shrinkage. So when wash day comes, I ideally go for stretched styles, like braid-outs or twist-outs to get as much volume as possible. And while I love those looks, I knew it was time to try something new, so I took a trip to DevaCurl for a wash-and-go (my first one ever) and I was so in love with the results.
My hair is definitely a blend of type four, meaning I have various textures of 4a, 4b, and 4c tightly coiled curls throughout my hair. That being said, I'm always iffy about going to salons, where the hairstylists may not know how to deal with my hair texture (black girl problems). But once I entered the doors of the DevaCurl salon in SoHo, New York, I was able to breathe a much-needed sigh of relief.
I saw people with various curl patterns and hair types working there. And it looked like every client was getting specialized attention. Once I was seated, a receptionist offered me a silk robe and a glass of fruit-infused water. Then, Dominique LyVar, a senior stylist and educator at DevaCurl, quickly removed about 40 million bobby pins from my hair, and took down my stale up-do. He asked what I wanted to do with my hair, and I told him that since I had just been on back-to-back, five-hour plane rides, my hair was extra dry and in need of a good deep conditioning treatment. I had just given myself a trim at home a few weeks prior, so I opted out of the DevaCut. Then before I knew it, I was off to get the process started.
LyVar began by wetting my hair, and then applied DevaCurl's Wash Day Wonder ($28, devacurl.com), while he used his fingers to comb through my hair. This pre-cleanse treatment works to get rid of tangles before cleansing the hair, which will definitely save you a lot of time in the long run. Of course, I never got to use it on my own since I was at the salon, but customers of all curl types rave about the product online, which currently has a 4.5-star rating on Ulta's website.
Next, the brand's No-Poo Decadence Zero Lather Ultra Moisturizing Milk Cleanser ($22, devacurl.com) was applied to my hair and scrubbed into my scalp. This was probably my favorite part of the entire treatment. Since I went natural, I haven't had anyone else's hands in my hair, so the scalp massage felt amazing. After this product was rinsed out, LyVar used One Condition Decadence Ultra Moisturizing Milk Conditioner ($22, devacurl.com), made especially for super curly hair like mine. Again, the stylist used his fingers to comb through my hair with the conditioner. I was surprised at how easily he was able to get through my thick tresses, because typically, when I'm washing my hair on my own, it takes about 15 to 20 minutes to get through my hair with a detangling comb — shout out to Wash Day Wonder!
Next, he washed the regular conditioner out and applied two deep conditioning treatment masks. The first was Melt Into Moisture ($36, devacurl.com) followed by Heaven In Hair ($28, devacurl.com). Then, I needed not one, but two shower caps to hold all of my hair, and went under the dryer for about half an hour so the conditioners could penetrate my strands.
Once my hair was hydrated and rinsed, LyVar applied B'Leave-In Miracle Curl Plumper ($40, devacurl.com) as my hair was soaking wet, once again using the finger combing method. The formula contains a blend of wheat protein, lemongrass, and chamomile that helps to plump and form your curls, while also adding moisture and shine. Since my hair is so thick, he also added Arc AnGEL Gel Maximum Hold No-Crunch Styler ($22, devacurl.com) to give my tresses some definition and hold. When I got up to go under the dryer again, my hair looked a little white from all the product, but my stylist assured me that it would disappear as my hair started to dry. Of course, he's the expert, so I trusted his judgement and waited for my hair to dry.
Because I was a wash-and-go virgin (and because I was nosy) I wanted to see how my curls turned out — even though my hair was still wet. When I turned on my phone's camera and got a look, I was elated with the results: My locks were soft, stretched, and perfectly defined. If nothing else, this experience proved that even though my hair is at an awkward length, doing a wash-and-go is still totally possible.
My hair took forever to dry because it's so thick, but once it was finally good to go, LyVar then sprayed in Set It Free Moisture Lock Finishing Spray ($14, devacurl.com) to add in some more moisture and shine. Finally, he blew my hair out to give me a nice, voluminous finish. And as promised, it dried clear. The end result was a beautiful, shiny, bouncy, big 'fro that I was absolutely in love with.
Unfortunately, the style only lasted about two days before my hair started to get sticky and frizzy, likely because of NYC's obnoxiously humid weather in the summer. I was sad to part ways with my first wash-and-go so soon, but I will definitely be headed back to the DevaCurl salon to let them work their magic once again.