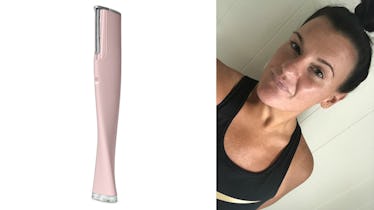 I Tried Dermaplaning At Home & Realized It's So Much More Than "Shaving Your Face"
DERMAFLASH // Kelsi Zimmerman
I've recently seen a few ads on my Instagram newsfeed talking about dermaplaning devices. The posts, usually advertising dermaplaning tools to be used at home, all suggest that the benefits of using their devices promote smoother skin that rids your face of dead skin cells and peach fuzz. So as someone who is constantly looking for ways to improve the texture of my skin (and has also made a career out of reviewing beauty products), I decided to give dermaplaning a whirl. And this review of the DERMAFLASH 2.0 Luxe proves that at-home dermaplaning is no joke.
When getting a dermaplaning service done at a salon, an esthetician will use a fine blade to gently scrape off dead skin cells and fine peach fuzz on your face. Before testing out the at-home version of dermaplaning however, my background knowledge of DERMAFLASH was that the device is designed to be used at home while still delivering spa-like results. At that point, I was under the impression that dermaplaning would be somewhat similar to shaving your face using clippers, but after putting DERMAFLASH to the test, I quickly learned that dermaplaning is so much more than shaving your face. Rather, I learned real results were comparable to getting a deep exfoliating facial, with extractions, while also removing peach fuzz.
According to a press release from the brand, the DERMAFLASH 2.0 Luxe promises to "instantly remove dead skin cells, built-up debris, and peach fuzz." Ultimately, doing so allows the device to enhance the efficiency of skincare products by "erasing the barrier to penetration, while creating a flawless canvas for makeup and revealing smooth, radiant, younger-looking skin."
Via the same release, Meghan Markle's go-to makeup artist, Daniel Martin, shared why he's a fan of this particular tool: "The device differentiates itself from traditional peach fuzz removers because it also eliminates the oldest layer of dead skin cells, revealing stunning skin directly beneath the surface. It's my go-to starting point for delivering impeccable skincare and makeup application to my clients."
Naturally, I thought, if it's good enough for the Duchess of Sussex, it's probably good enough for me. But still, I had never had the process done professionally before, much less done it on myself, so I had a few questions. What exactly is dermaplaning your own face like? Should you even do it at home? Is it safe? To answer those questions, I sought out the feedback from Dr. Audrey Kunin, board certified dermatologist and founder of DERMAdoctor, to break it down. Then, I went on to test out the product myself.
Before:
Prior to using the instrument, I pulled my hair back, removed all makeup, and washed my face using DERMAFLASH's PREFLASH Cleanser ($29 for The Essentials Kit, DERMAFLASH), a cleanser that removes all traces of makeup, dirt, and oil, and is specifically designed to be used before the DERMAFLASH treatment. After washing, I pat my face dry. Even though my skin felt a little parched, I withheld the habitual urge to apply a moisturizer, because, according to Dr. Kunin, you should make sure to use the device on skin that is clean and very dry. "The drier the skin, the better the results," she says.
During:
Following the directions that came with the DERMAFLASH, I held the device in one hand and using the opposite hand, I held my skin taut to ensure the flattest surface for gliding the DERMAFLASH. I started at my cheekbone in front of my ear and carefully moved the device in an upward motion. With the first few swipes, I could see my peach fuzz start to build up on the "edge" (or blade) of the device.
Full disclosure: I am an avid spray tanner who also uses self-tanning drops on my face religiously, so I expected to see more (and bronzer) skin buildup than what was considered to be "normal" — and I'm pretty sure I did. After going over my entire face with the device on the slower setting, making sure to avoid my eyebrows, hairline, lips, and eyelids, I then turned to the faster setting and swiped the tool over my face one more time using short strokes, just to make sure that I got rid of all of the impurities.
After:
The directions for the tool suggest that, immediately following the dermaplaning session, you should apply the POSTFLASH Moisturizer ($29 for The Essentials Kit, DERMAFLASH). However, after my first time, I found that it was necessary to rinse my face with warm water quickly, just to remove the excess peach fuzz and dead, flaky skin sitting on my face that hadn't been swiped away by the tool. After rinsing, I pat my face dry and applied the moisturizer as recommended.
The device promises to provide smooth, radiant skin instantly, while creating a flawless canvas for makeup, and I absolutely found all of that to be true. My skin felt incredibly softer and smoother with a completely even texture and zero rough patches. And when I say my face was glowing, I mean it was glowing. I expected my face to feel smoother overall, but the difference in texture and radiance was truly unreal.
As smooth and glowy as my face was immediately post-dermaplaning, I knew the real test would be when I applied makeup for the first time. The results? My full-coverage foundation went on as smooth as butter, settled into my skin a lot more evenly than it did pre-dermaplaning, and seemed to stay put a lot longer than it usually would — it even successfully endured the humid temps in NYC's subway system. When applying the makeup, it was easy to blend, as it seemed to glide right on, and the overall appearance was a lot more even. I found myself using less foundation than I normally would since it was so much easier to apply and blend.
In the days following my at-home dermaplaning session, my skin remained smooth as ever. In fact, I noticed that my peach fuzz didn't start to grow back until around three weeks after using the device for the first time. And when it did start to grow back, the appearance of the peach fuzz didn't change a bit. According to Dr. Kunin, this is one of the common myths associated with dermaplaning and hair removal in general. "It is a myth that shaving causes hair to grow back thicker and darker, so as with shaving, dermaplaning does not cause a textural change to hair regrowth." Since DERMAFLASH only removes the top layer of skin and peach fuzz, nothing you do to the surface of your skin really changes the hair follicle or the way your hair grows.
Overall, the process was simple, quick, and smooth (pun intended). And while I believe it took about three weeks for my peach fuzz and skin texture to return to how it was before the first time I used the DERMAFLASH, Dr. Kunin suggests using the device once a week or once every other week for best results.
For me, using the DERMAFLASH proved to be super safe and painless, which Dr. Kunin explains is a result of the fool-proof design of some at-home dermaplaning tools and their angled blades that are accurately positioned for the safest, best results. However, the only precaution I would suggest to someone dermaplaning for the first time would be to be careful not to knick any pimples that you may have, as I imagine that would be pretty painful. Last but not least, even though using the device doesn't call for any downtime, I would (as always) recommend lathering on a good SPF before you step outside. After all, you did just remove the top layer of your skin.