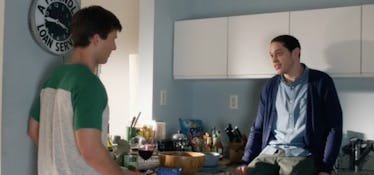 This Pete Davidson Scene In 'Set It Up' Was Cut From The Movie, But It Sounds Hilarious
Netflix/YouTube
If one of your favorite elements of Set It Up was the quickly-formed friendship between Pete Davidson's Duncan and Zoey Deutch's Harper, you're probably not alone — though you might feel a little cheated right now. Apparently, the duo had more screen time in the original script that ultimately got left out. Duncan was a secondary "best friend" character to leading man Charlie (Glenn Powell) and according to the film's director, one of his lines compelled her to take on the project. She recently recalled a deleted Set It Up scene with Pete Davidson that didn't make the film, but made a lasting impression and brought Harper and Duncan closer.
When asked about favorite moments or jokes that didn't make the final Set It Up cut, director Claire Scanlon explained that a convo between Harper and Duncan that involved her venting about her relationship particularly stood out. If you've seen the flick, you probably remember them attending a pool party together as Harper waits for "golf guy," the dude she's seeing, to reach out to her. Harper doesn't understand why he wouldn't want her because in her mind "men need shelter" and playing hard to get is "evolutionarily unsound." This was meat to lead to a playfully emotional exchange.
Scanlon outlined the deleted scene speaking with ET:
It's when she says, 'Men need shelter. I'm guaranteeing shelter.' Duncan tries to make her feel better and Harper looks at Duncan and takes his hand very emotionally and says, 'I wish it was the '50s and you had to pretend to be straight and we had a passionless and confusing marriage.' And he says, 'Simpler times.' I thought that was really funny, that one couplet. Of course, it was the opposite of simpler times and no one would want to go back in time to that time. But it showed how she clicked with Duncan and I really liked that relationship, we just didn't have time. I think you need to stay with where the emotions are.
I need more Duncan and Harper bonding times!
Some spoilers ahead for Set It Up in case you haven't watched yet. Set It Up began streaming on Netflix on June 15, quickly becoming the must-see delightful romantic comedy of the summer. The adorable film revolves around two overworked assistants setting up their demanding bosses, and while (in the spirit of the genre) it wraps up pretty neatly, there are already rumors of a sequel floating around. There's more story to tell for Harper, Charlie, Rick, and especially Lucy Liu's character, Kirsten.
"To me what would be interesting to see is Kirsten, where does she go next? The character Rick has clearly opened a door or her and made her realize, 'I'm worthy of a personal life and I deserve this,'" Scanlon revealed to E! News. "I'd love to see where that goes. Honestly, it's the Kirsten character that I would want to explore. There's a world out there that you would want to explore. It'd be interesting to see where it goes."
Leading lady Zoey Deutch is apparently down with keeping Harper going on-screen. "so ummm... do we get to make a second or wut," the actress captioned a June 15 Instagram photo featuring her and co-star Glenn Powell goofing off on set.
Netflix has not confirmed a follow-up to Set It Up, but fingers are definitely crossed. Charlie and Harper surely have other set-ups in them and I would love to know what else could be developed beyond that final frame. Perhaps Duncan and Harper would get the chance to share more quality time together.
Your move, Netflix!