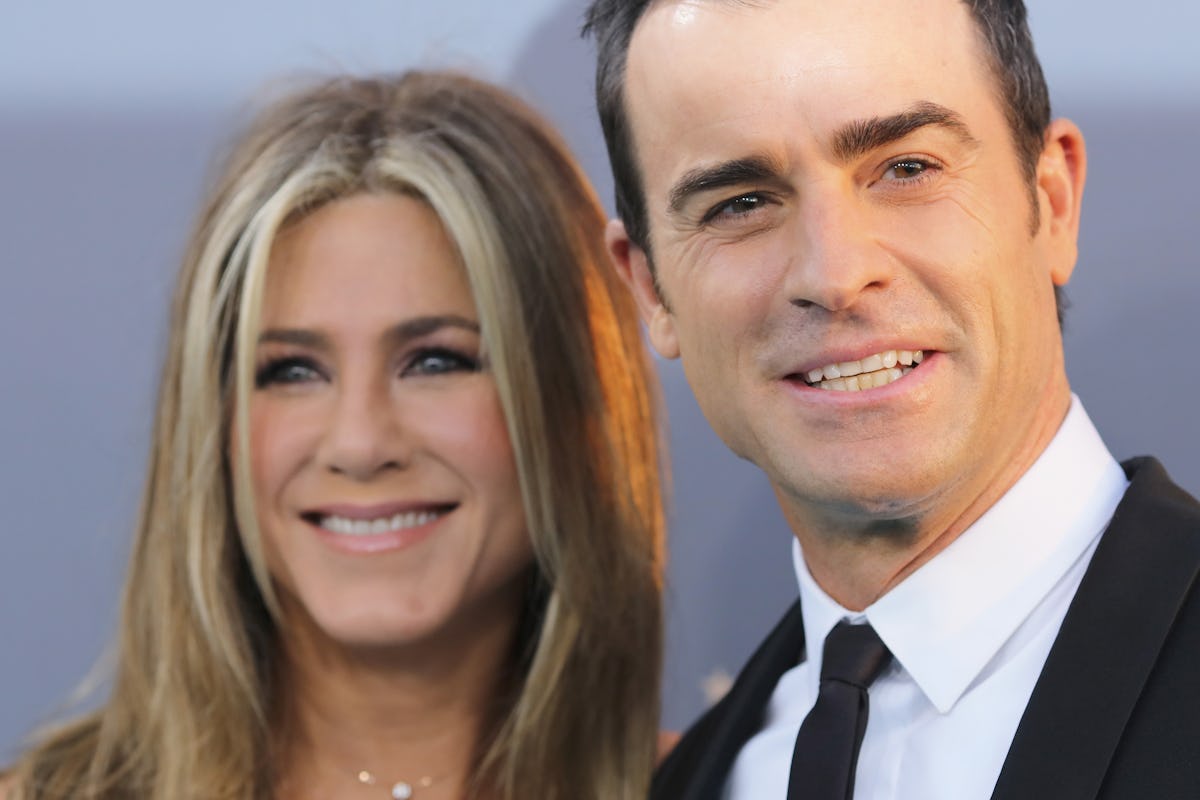 This Major Clue About Jennifer Aniston's Separation Proves It Was Coming
Mark Davis/Getty Images Entertainment/Getty Images
The news of Jennifer Aniston's separation is beyond heartbreaking. When I got the devastating text that her and Justin Theroux were splitting, my immediate response was, "Will Jennifer Aniston ever find love?" And even though many fans — myself included — found the news to come totally out of left field, this clue about Jennifer Aniston and Justin Theroux's separation shows that it actually wasn't that sudden... and I honestly didn't catch onto it until now.
You may be thinking that the clue has to do with the fact that the couple had been living on opposite sides of the country, according to Slate. Aniston also went on a special birthday vacation without Theroux, causing a little buzz of their potential split-to-come. But the clue Slate uncovered is a little more inconspicuous than that, and although I watched a lot of Scooby Doo in my day, even I didn't manage to solve out this mystery.
The fact that Aniston gave Architectural Digest a tour of her Bel Air home is what heavily implied that a separation was a-brewin'. According to Slate, Jen was the cover girl of the magazine's February issue, and the feature focused on giving a tour of their fancy home and vintage furniture. That may not sound particularly suspicious, but there's a reason why it is.
Per Slate, celebrity couples have often shown their houses to Architectural Digest before divorcing their boo's. Naomi Watts and Liev Schreiber, for example, featured their Tribeca apartment in March 2016 issue, half a year before their split, while Marc Anthony and his ex, Shannon de Lima, showed off their beach house in the same issue, before separating that same year. Drew Barrymore's ex, Will Kopelman, also gave the magazine a tour of his fancy home office just before they ended their marriage in early 2016. This is what Slate calls "the Architectural Digest curse," because celebs tend to show off their homes in the magazine before putting them on the market... instead of divorcing and putting up a super sad "for sale" sign in the front yard. Honestly, it isn't the worst idea, because it gives architecture fans an inside look at celeb's houses, which later might entice them to buy it.
While Slate reiterates that it isn't always definitive that a couple's about to split if they show their home in AD, it's a strong possibility, and it's not totally a coincidence. It's just smart real estate moves, and it generally helps them out in the long run.
It also turns out that the couple might have not been legally married in the first place. Even though there were pictures of a ceremony at their mansion in Bel Air, in 2015, TMZ checked through all of the marriage records in Los Angeles since 2010, and couldn't find theirs. It could be confidential, or they could have gotten licensed in another county, but sources told TMZ they don't believe Aniston and Theroux actually got one. That makes things a little easier.
Fans are wondering if Aniston and Brad Pitt are going to get back together. Apparently, after Pitt's divorce, he totally tried to slide into Aniston's DMs. He wished her a happy birthday, confided about his divorce, and apparently even reminisced about the past. Even though Aniston is way too good for Pitt, the only thing standing between the two was Anniston's boo. But now, since they're separated, many are wondering if they're actually going to give their relationship another shot.
Check out the entire Gen Why series and other videos on Facebook and the Bustle app across Apple TV, Roku, and Amazon Fire TV.