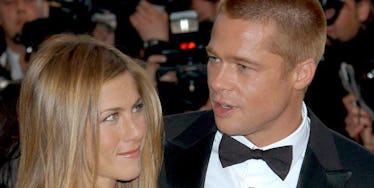 Brad Pitt Slides Into Jennifer Aniston's DMs After Divorce From Angelina Jolie
REX/Shutterstock
Ohhhhhhhhh, Brad Pitt. I see what you're doing, you sly thirst monster. WE ALL see what you're doing.
It is unclear whether Brad Pitt is still deep in mourning over the death of his marriage to Angelina Jolie, or is just single and ready to min -- GET DAT DYUCK WET, SON -- gle.
I mean, it has been a few months, so there is a good chance he is actually over Angelina. That being said, the two were together for around 12 years, which is a lot of time to grow a connection with someone.
Depending how recovered you think he is, this story is either super sexy or insanely heartbreaking.
According to a source that spoke to US Weekly, Brad has been texting with his ex Jennifer Aniston ever since he and Angelina ended.
US Weekly didn't release a full transcript of the convo they had with the source, so their article is sort of just a treasure trove of sexy/miserable soundbites about the possibility of a Brad-Jen reunion/platonic cry festival.
Like this sexy/sad quote:
They started talking once he wished her a happy birthday.
Or this juicy lil' spice nugget/cry for help:
Has confided in Jen.
Then you gotta deal with this steamy-hot, undertone-heavy sex exchange/genuine need for human connection:
Brad told her he's having a hard time with his split, and they exchanged a few texts reminiscing about the past.
What complicates things is that Jennifer is happily in another relationship. She's currently married to "The Leftovers" star Justin Theroux, who just took her to Mexico for her birthday.
IS THIS QUOTE PROOF OF A LOVE TRIANGLE, OR THAT BRAD IS IN A GLASS CASE OF EMOTION?!?!:
Justin is OK with them being friends... Jen just wants to be nice.
Ohhhh man. Someone knows SOMETHING, and they better dish. on. that. sheeeet. really soon.
In the meantime, you can check out Brad doing some army stuff in his new Netflix project, "War Machine:"
Citations: Brad Pitt Reaches Out to Jennifer Aniston Amid His Split From Angelina Jolie (US Magazine)