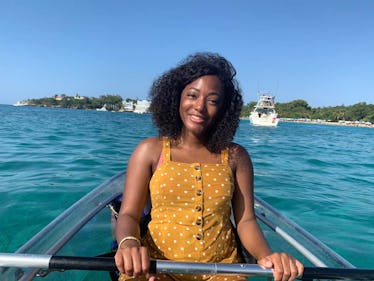 This Clear Kayaking Experience Will Upgrade Your Insta & It Lives Up To The Hype
What does travel mean to you? Personally speaking, I love all forms of exploration, and travel allows me to do just that. I love hiking, biking, driving, kayaking, and nearly every other activity that allows me to discover the hidden beauty of a destination. Kayaking is one of my favorite outdoors activities, because it gives you a chance be active while exploring. It's the ultimate way to get up close and personal with the marine life without actually getting into the water. This clear kayaking Airbnb Experience in the Dominican Republic will bring your Insta feed to a new level, and it totally lives up to the hype.
I recently visited the Dominican Republic, and it was one of the best trips I've ever taken. I have to give a lot of the credit to Airbnb, which acted as an incredible resource for booking an epic condo and unique activities for the trip. I'm always searching for hidden gems and special ways to enjoy a destination, so I was stoked to discover this clear kayaking experience. I had seen this excursion all over Instagram, and knew it was something that I had to cross off my bucket list. Thankfully, this activity exceeded my expectations, and I was able to get some pretty epic shots for my Instagram feed. Let's just say, it was a success!