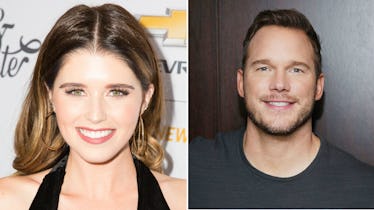 Chris Pratt Has A New Relationship & It Sounds Like Things Are Getting Serious
Alison Buck/Getty Images Entertainment/Getty Images; Lars Niki/Getty Images Entertainment/Getty Images
I was watching a rerun of Mom the other day when a wave of sadness suddenly rushed over me, so lemme get this confession out of the way right up front: I am still not over the fact that Chris Pratt and Anna Faris aren't married anymore. Sorry, I just loved them together so freaking much that this transition period has been tough. I know it's coming up on a year, but TBH, I freaked out last week when photos surfaced of Pratt picnic-ing it up with another girl. And now we have a new Chris Pratt and Katherine Schwarzenegger relationship update, and it looks like things are getting pretty serious between these two, you guys! I mean, according to E! News, that picnic in the park wasn't even their first date!
"They have been on multiple low key dates and have been talking consistently for the last two months or so," a source said. "They both really like each other. Chris is smitten by Katherine and is super happy about how it's going so far." Elite Daily reached out to Pratt and Schwarzenegger's teams about the report, but did not hear back by the time of publication.
Did you hear that? THERE HAVE BEEN MULTIPLE DATES. No wonder Schwarzenegger was comfortable enough to be rocking a sweat jacket and pair of yoga pants at their picnic. So yeah, I guess it's time to move on. I mean, Farris has been with BF Michael Barrett for a while now, so it was only a matter of time before Pratt got serious with someone, too. But do people really use the word "smitten" IRL? Like is that an actual thing?
Meanwhile, according to the same source, Katherine's mom, Maria — who happens to be Maria Shiver, estranged wife of Arnold Schwarzenegger, a.k.a. The Terminator — helped set these two up! "She knows Chris through mutual friends," the source said. And, like, now I just keep trying to figure out who those mutual friends are and if they can please introduce me to a really hot and famous celebrity, too.
But is this mysterious ~mutual friend~ the source is talking about Oprah? Because how epic would THAT "How We Met" story be?
Or could it be Momager Kris Jenner? I def would not be surprised!
Or maybe it was Hoda Kotb, who thanked Shriver for teaching her the ropes when she first adopted her baby girl Haley Joy. Was the set-up her way of returning the favor?
Are any of these women even friends with Chris Pratt? Seriously, someone help me out here because I really need to know!
Farris and Pratt announced that they were splitting back in August 2017 after eight years of marriage.
"Anna and I are sad to announce we are legally separating," Chris wrote on Facebook at the time. "We tried hard for a long time, and we're really disappointed. Our son has two parents who love him very much and for his sake we want to keep this situation as private as possible moving forward. We still have love for each other, will always cherish our time together and continue to have the deepest respect for one another."
Annnnd, now I'm over here catching all the feels. That statement is just so sad it gets me every time! Especially the part about the couple's 5-year-old son Jack who, BTW, is just the cutest thing ever:
Back in April, Pratt talked about co-parenting to Entertainment Weekly while promoting his new movie, Jurassic World: Fallen Kingdom.
"Divorce sucks," he said. "But at the end of the day, we've got a great kid who's got two parents who love him very much. And we're finding a way to navigate this while still remaining friends and still being kind to one another. It's not ideal, but yeah, I think both of us are actually probably doing better."
Love. Him. Ugh, Oprah, Kris, Hoda, whoever, why didn't you set him up with me?!
Anyway, now that we know Pratt is probably serious about Schwarzenegger, what are we gonna call these two? Prarzenegger? Schwatt? Chratherine? Kathris?
I'll work on it, OK?