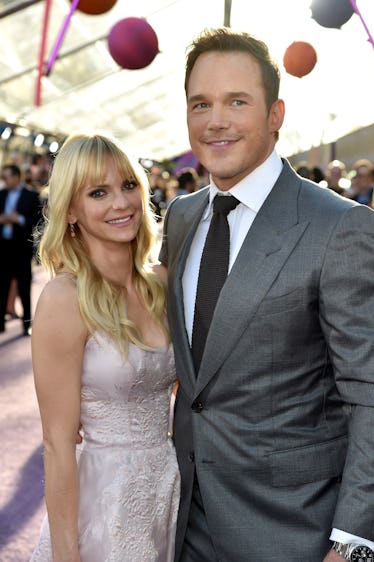 Chris Pratt & Anna Faris Were Spotted On A Walk Together, So Can They Just Be Together?
Frazer Harrison/Getty Images Entertainment/Getty Images
Chris Pratt and Anna Faris split in 2017, and they've both moved on to new relationships while still having a close co-parenting friendship while they raise their son, Jack. Pratt has been dating Katherine Schwarzenegger all summer and Faris has been dating cinematographer Michael Barrett for almost a year, but this Chris Pratt and Anna Faris relationship update has made some question whether or not a reconciliation might be possible for the former couple.
Pratt and Faris announced their separation on Aug. 6, 2017, in joint statements. In Faris' book, Unqualified, she detailed some of the heartbreaking stories that lead to their separation after eight years of marriage. She said Pratt going from relatively unknown celebrity to superstardom thanks to Marvel caused a rift in their relationship. "For a long time, I felt really lucky. Even though Chris was becoming hugely famous and I'd been sort of famous for a while, the two of us led such boring lives that the tabloids usually left us alone," she said. "But when Chris filmed Passengers with Jennifer Lawrence, that all changed." She continued in the book, "I didn't think it would bother me… But then, when it actually started and magazines began running rumors, it was totally hurtful."
That was just one of the stories explaining their split. But now, Pratt and Faris were seen going on two walks together by paparazzi (you can see the pictures here) and it raises the question of whether these two could get back together. According to E! News, Faris and Pratt took their son, Jack, on a walk in Santa Monica, Calif. on Monday, Aug. 27, then they were seen again going on a walk just the two of them on Wednesday, Aug. 29. Now, Pratt and Faris have frequently said throughout the last year that they've remained close friends despite their breakup, so this walk could just be a walk between two people who share a son. I could see how this might rekindle some hope that they could one day get back together, though.
They announced their split in a joint statement on Aug. 6, 2017, but have remained close ever since. The statement read,
Anna and I are sad to announce we are legally separating. We tried hard for a long time, and we're really disappointed. Our son has two parents who love him very much and for his sake we want to keep this situation as private as possible moving forward. We still have love for each other, will always cherish our time together and continue to have the deepest respect for one another.
Fans were heartbroken over the news, but they were even more heartbroken when the details of their breakup were laid out to dry in Faris' book. Their careers were a struggle for them, and it was partially due to the male privilege Pratt gets in his career that Faris isn't afforded because she's a woman, Faris writes in Unqualified.
"Sometimes I feel like I don't have the career that I used to, and I do have moments of insecurity about that," she said in the chapter that features a discussion between her and Pratt. "I'm so thrilled and grateful that you are doing the things you are, and I have crazy pride in the fact that your talents are recognized," she told him, "but it can be hard not to have a moment of self-doubt when my husband is acting with young women in big movies and I'm playing a role in Mom, that, while I love it, is incredibly unsexy."
Who knows, maybe one day Pratt and Faris will overcome the issues that lead to their split and realize they want to be together. The skeptic in me wouldn't say that going on a walk together is surefire evidence that it's going to happen, but the hopeless romantic in me still ships them so hard, so fingers crossed, people.