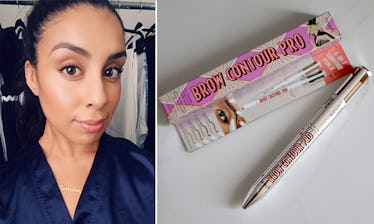 Benefit Just Dropped An Eyebrow Clicker Pen & '90s Kids Are Going To Love It
Stephanie Montes
My friends over at Benefit are going to kill me for saying this: my brows don't get a whole lot of attention when I do my makeup. But after writing this Benefit Brow Contour Pro review, my brows finally got the attention they deserve. And no, I didn't need to spend more time on them — because who really has that kind of time anyway?
My day-to-day makeup routine goes like this: I start with my eye shadow. Whether it's with a bold shade of color, or a natural-looking shimmer, I love making my eyes pop, so most of my time is spend here. After I've perfected my shadow, I finish my eyes with a crisp cat eye and a few coats of mascara. By this time, I usually realize I'm running low on time, so I rush to apply my foundation, brush on my contour, and swipe on a lip. Finally, before I run out the door, I comb a tinted brow gel through my arches.
I'm lucky enough to get by because I have naturally thick brows, but I constantly find myself dealing with brow envy when I see other beauty junkies with perfect-appearing arches. But where do they find the time to expertly shape their brows, not to mention juggle a plethora of products?
Benefit Brow Contour Pro, $34, Sephora
When I met with Benefit to talk about their new super secret product, they showed me a 4-in-1 product that made me rethink my entire makeup routine. Think of it as a Swiss army knife of brow products — it has four different products hidden into a single contraption to fill, define, sculpt and highlight. But this is the best part: It looks like those clicker pens everyone had in their pencil case in the '90s. Just like the throwback writing tool, a simple click dispenses a new color — each one designed to add dimension to your brows.
Benefit Brow Contour Pro, $34, Sephora
Each pen comes loaded with four different shades: Lighter Shade, Deeper Shade, Definer, and Highlighter.
The Lighter Shade is used to fill in the beginning of your brows up until the arch. One click over is the Darker Shade, which is used from the arches to the ends of your brows. This gives you a natural-looking contrast that makes you look like you were born with perfectly filled-in brows. Next, use the Definer Shade to crisp up the edges of your brow and blend with your finger or a hard-angle brush. Think of it as an eraser — if you colored outside the lines, use the Definer Shade to clean up your edges. Lastly, use the Highlighter Shade on your brow bone and pat it out with your finger to blend.
Benefit Brow Contour Pro, $34, Sephora
The Benefit Brow Contour Pro comes in five different shades: Blonde Light, Brown Light, Brown Medium, Brown-Black Light, and Brown-Black Deep. My color is Brown Light, but finding your shade might feel tricky at first. Instead of looking for your brow color in a sea of brown swatches, start by finding your Definer Shade (this is the one you can use like an eraser). This color should be a shade lighter than your skin tone. The browns that come with this flesh-toned color can be darkened or lightened with the pressure of your stroke. Unlike a pencil product, the formula is creamy and moveable like a pomade, so if you like running a spooley through to blend and create strokes, you can still do that with this product. But once it sets, it'll stay there for a full 24 hours.
After four clicks of the pen, my brows looked fuller, thicker, and more defined. Getting acquainted with each shade took some time at first, but by my second brow, I was a pro — and since I didn't even need to put the pen down to switch shades, it didn't take much longer than my go-to tinted brow gel.
The Benefit Brow Contour Pro launches August 7 and is sure to be the perfect addition to your pencil case, err, your makeup bag.