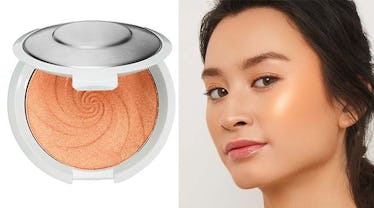 This Becca Shimmering Skin Perfector Review Proves Their New Shade Is A Dream...Sicle
Champagne Pop was the highlighter that launched a thousand illuminators. Thanks to Becca, we've all become glowy goddess in the years since. Now, the brand is upping its glow game even more. This Becca Shimmering Skin Perfector review will have you slathering your face in a delicious new shade that couldn't be more fitting for the ever-anticipated warm weather. With this bright AF new highlight, you'll be as cool as a popsicle on a hot summer day.
The geniuses behind Becca's brand are truly glow-getters. The creamy powder formula of the iconic Shimmering Skin Perfector Pressed Highlighter ($38; Sephora) glides on to the skin like butter, brightening the complexion without drawing attention to pores or texture. Plus, the ridiculously reflective glow the products deliver is unreal. You can practically see your hopes and dreams reflected on your cheek bones. It's no wonder that this little pan of wonders helped to create the illuminator craze in 2014.
Speaking of, if you're a longtime beauty fan, you might remember when the iconic Opal shade took the world by storm, long before Champagne Pop was even a twinkle in Jaclyn Hill's eye. When the highlighter trend first began, the Opal illuminator was practically more precious than diamonds. Every beauty store was sold out of the highly coveted product for weeks on end.
Becca Shimmering Skin Perfector Pressed Highlighter in Opal, $38, Sephora
In the years since, the Becca Shimmering Skin Perfector Pressed Highlighter family grew to include a dozen shades. Colors like Pearl, Topaz, and Rose Gold were reliable staples to highlight every skin tone. Champagne Pop and its sister Prosecco Pop also had their moment in the sun.
Becca Shimmering Skin Perfector Pressed Highlighter in Prismatic Amethyst, $38, Sephora
For the serious makeup collectors out there, the brand also launched numerous exclusive and limited edition hues like Prismatic Amethyst and Vanilla Quartz that had rad printed patterns and distinctive colorful packaging that were just as cool as the iridescent shades inside.
Becca Shimmering Skin Perfector Pressed Highlighter in Chocolate Geode, $38, Sephora
Shortly before the launch of its most recent delectable beauty, Becca made headlines with the release of the permanent shade Chocolate Geode, a rich chocolate brown hue with a gold pearl reflect that would sumptuously highlighter deeper skin tones without leaving a grey cast behind.
Now, mere weeks after the release of its last product, Becca has launched their newest shining, shimmering, splendid shade: Dreamsicle.
Becca Shimmering Skin Perfector Pressed Highlighter in Dreamsicle, $38, Sephora
This dreamy powder has a soft tangerine hue with a gold and pearl iridescent swirl that will leave you looking like the tastiest creamsicle you ever did see. With peach being the color of summer 2018, the release couldn't have been better timed. You'll be stepping out into the summer sun in style.
As if the stunning formula wasn't enough, the packaging's also to die for. The gorgeous swirling imprint on the powder itself will hypnotize you into making your purchase. Seriously, just try to stop staring at it. The summery white and silver casing will have you looking chic AF whether you're summering in the Hamptons or simply keeping cool by running through the refreshing sprays of busted fire hydrants on the streets of NYC.
Since the highlighter has so much color, you can really use this product as both an illuminator and blush. Simply swipe it on to the apples of your cheeks, and be on your way in seconds.
Plus, this highlighter shade is universally flattering. Though it serves more as a blush on fair skin and an illuminator on deeper skin, all skin tones can rock the Dreamsicle glow. It's truly the sisterhood of the traveling highlighter.
If you're looking for the perfect way to punch up your summer wardrobe, then Becca's new Dreamsicle highlighter is sure to be a sweet treat. With its fresh tangerine hue and iconic insane glow, this illuminator will satiate all your cravings.