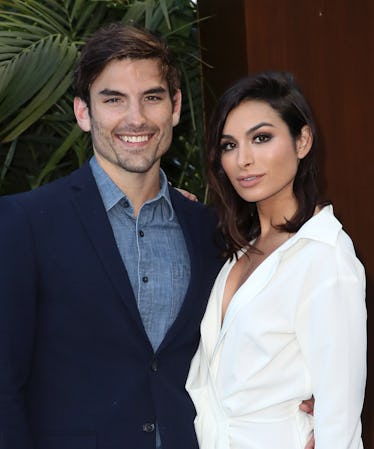 Ashley Iaconetti & Jared Haibon Are About Take A Major Step In Their Relationship
David Livingston/Getty Images Entertainment/Getty Images
Ashley Iaconetti and Jared Haibon are taking their romance to the next level. While the Bachelor in Paradise stars have taken their love life slow over the past three years, they're finally making all the right moves to seal the deal. So, what are the details of this Ashley Iaconetti and Jared Haibon relationship update? Well, just two months after their long-awaited engagement, the two lovebirds are finally having their parents meet each other.
The happy couple announced their plans to E! News exclusively. The two sides of their family will be meeting in the most Bachelor-esque way, too: on a cruise in the Caribbean!
"Our families are meeting on a Royal Caribbean cruise. That's what we're looking forward to," Iaconetti told E! News. "It's just going to go very well."
Wow, what a way for two families to come together! And it's a pretty smart move, especially because cruises are so relaxing and the whole family will probably be more at ease.
Iaconetti isn't the only one who is super excited about the family cruise. Haibon is, too, and he's not afraid to show it. He echoes Iaconetti's sentiments exactly.
"We've always felt that our parents would get along very well and both of them are super excited to meet each other," he told E! News. This will be the first family outing where everybody's there and what better way to do it than on a cruise?"
Unfortunately for Bachelor fans, the family cruise won't be happening in front of a film crew, so they'll just have to until Iaconetti and Haibon spill the beans about how it all went down.
In any case, a family reunion cruise isn't all that Iaconetti and Haibon have to look forward to. There is, of course, their upcoming wedding, which they're currently in the midst of planning.
Haibon shared some details about who they're working with to plan the wedding and when they're hoping to tie the knot.
"We just got our wedding planner Troy Williams and we're narrowing down a date next summer so we're thinking July," Haibon revealed. "We're just pinpointing the days we want."
As for how Iaconetti and Haibon are enjoying the new Bachelor in Paradise, they're loving every single second of it.
"We were both really taken back. We think it's the best Bachelor TV we've seen in years," Iaconetti said of the new season. "We didn't even look at our phones. You know a show is good for two hours when you don't touch your phone."
Clearly, Iaconetti and Haibon are really enjoying what Bachelor in Paradise is serving up. So far, there are love triangles brewing and Tia, Colton, Krystal, and Joe the Grocer are right in the crosshairs of it. No wonder Iaconetti and Haibon are reveling in this new season already. And to think, there are so many more weeks left to go! Literally, anything can happen at this point. Who knows, someone on the show might even find love the way Iaconetti and Haibon did.
The whole Bachelor franchise is famous for bringing soulmates together, after all. I wouldn't be surprised if a year from now fans were hearing about an engagement situation similar to Iaconetti and Haibon's.