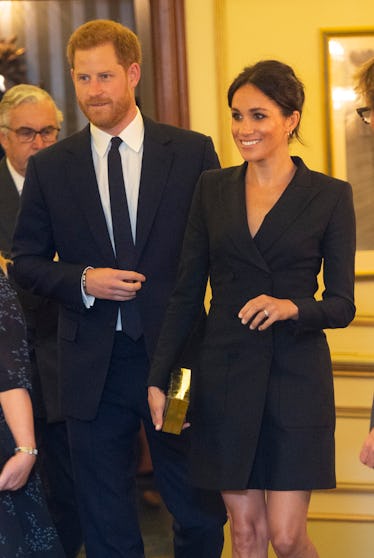 OMG, You Can Party Like Meghan Markle & Prince Harry At This $45 Concert
WPA Pool/Getty Images Entertainment/Getty Images
If you've ever dreamed of mingling with members of the royal family, you should probably start brushing up on your curtsies and British slang like... right now. Your invite to the May 19 royal wedding might have gotten lost in the mail, but this 100 Days of Peace Concert will let you party like — and possibly even with — Meghan Markle and Prince Harry on Sept. 6. A $45 ticket gets you access to an elegant benefit concert at Central Hall Westminster in London, where fans have the opportunity to rub elbows with the Duke and Duchess of Sussex while also supporting mental health charities focused on helping military veterans. It's a win-win situation, so BRB while I book my trip to London
According to a statement issued by the Royal Armouries, Prince Harry and Meghan Markle have already RSVP'd yes to the gala, which will take place on Thursday, Sept. 6 at 7:30 p.m., per Travel + Leisure. Elite Daily reached out to Kensington Palace to confirm that Meghan and Harry will attend the Sept. 6 concert but did not hear back at the time of publication.
While there's no guarantee that you'll enjoy a private tête-à-tête with Meghan and become BFFs by the end of the evening, or exchange witty banter with Prince Harry over flutes of champagne, you will be "in the presence of the Duke and Duchess of Sussex," so take that how you will. As it's the royal family, the whole event is, unsurprisingly, a decidedly elegant affair. In other words, you might want to consider leaving your lit concert attire at home in favor of gala-ready gowns.
As for the concert, it's celebrating the hundredth anniversary of the last 100 days of hostilities during World War I by raising money to help soldiers who are still suffering from shell shock or other mental health issues after returning from combat. Prince Harry, who previously served in the armed forces, has always been a big proponent of mental health awareness for veterans, so you can be sure that the gala is supporting a cause that's near and dear to his heart.
Sir Karl Jenkins will be conducting "The Armed Man: A Mass for Peace," which will be performed by the Royal Choral Society and the Philharmonia Orchestra with vocals by soprano songstress Lesley Garrett CBE. According to the Royal Armouries, "this will be the only performance of 'The Armed Man' in England in 2018 to be conducted by Sir Karl himself," so classical music fans won't want to miss this concert. Other works by Sir Karl Jenkins and Samuel Bordoli's "The Great Silence" will also be performed, according to the program.
The best part? All proceeds from the benefit will support three charities that work to help veterans who are still struggling with mental health. Help for Heroes, Combat Stress, and Heads Together (a mental health foundation that Kate Middleton, Prince William, and Prince Harry have worked with in the past) will all be beneficiaries.
"At the end of the First World War many thousands of men returned home suffering from shell-shock. With minimal understanding of the condition, many did not benefit from the type of support which is increasingly available today," the statement reads. "Although circumstances have changed significantly over the last 100 years, we are ever more aware of the number of veterans who continue to need support because they suffer from post-traumatic stress disorder, anxiety or depression."
Tickets are only 39.95 pounds on Ticketmaster, which roughly translates to about $45, so it's no surprise that they're going fast. It's a small price to pay to hang out with Prince Harry and Meghan Markle and enjoy an evening of music, all while supporting mental health initiatives, so you'll want to book your trip across the pond ASAP. The possibility to party like a royal sounds like as good a reason as any to get an early start on your fall vacay.