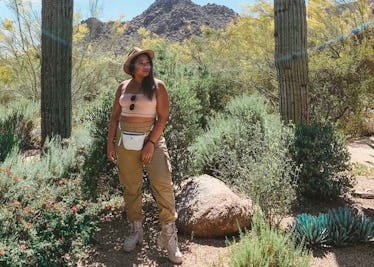 I Spent A Weekend In The Desert & Packed These 11 Things That Totally Fit My Vibes
When I started prepping and packing for my trip to Scottsdale, Arizona, I was honestly a little perplexed. What exactly does one bring on a weekend trip to the desert? I didn't want to bring anything that would be too heavy or hot, but at the same time, I wanted to look cute and get amazing pics with the giant cacti. It took a bit of trial and error, styling outfits on my bedroom floor and Instagram research, but I think I found the best things to pack for a weekend in the desert so I fully embraced all of the desert #vibes.
I couldn't resist sticking to a tan, beige, and white color story to match the scenery. I even planned my makeup products around the fact that I knew I'd sweat while I was there. To say that I went all-out to plan how I would look for the entirety of the weekend is a total understatement. But looking back at the pics after the trip, I can proudly say the effort was really worth it.
If you're heading on a desert getaway anytime soon, invest in some (or all) of these must-haves from my Scottsdale packing list. And if you're not going on a desert trip anytime soon, I suggest you get to planning. It'll be one of the best decisions ever.