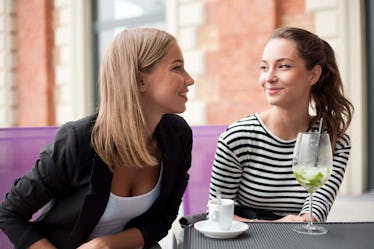 This Is The Zodiac Sign You'll Instantly Have Chemistry With, So Take Note
There's nothing quite like the feeling of instant chemistry with someone, where you just feel drawn toward each other and effortlessly click. Whether all it takes is a glance or a few minutes of conversation, you both sense something between you that feels almost spiritual, or at least, very visceral. While there's no way to guarantee you'll have that connection with someone, knowing which zodiac signs will have instant chemistry together can help you keep an eye out for the one who'll make your heart flutter at first glance.
That immediate attraction you feel when you click with someone can be a combination of two things: An initial spark that makes you feel like you're on the same wavelength, and a sense there's something special about them that makes you want to learn more. But that's not all. That initial chemistry is also about sensing something below the surface that hints there might be potential for a deeper connection. When you think about it like that, is the power of chemistry really that surprising? With that in mind, here's the zodiac sign you might want to keep an eye out to help improve your chances of finding that instant spark.