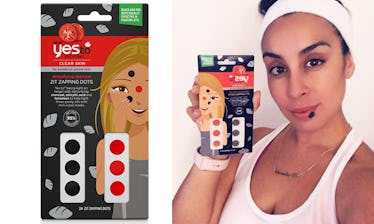 I Tried Charcoal Dots For A Monster Pimple & It Didn't Even Leave A Scar
Stephanie Montes
I have my Mean Girl moments where I stare at myself in the mirror and talk about how huge my pores are, but for the most part, I actually feel pretty good about my skin. I rarely get pimples. My breakouts usually look like a rash or cluster of tiny bumps, but they never form into full-on zits. So when I woke up one morning with a puss-filled pimple on the edge of my lower lip, even my husband said, "whoa, what happened?" Obviously, it was due time to write a Yes To Tomatoes Zit Zapping Dots review.
I'm a huge fan of the Yes To range, especially the charcoal infused Yes To Tomatoes collection. I first fell in love with the Yes to Tomatoes Detoxifying Facial Charcoal Cleanser ($10; target.com) a few years ago, and since then there have been so many additions to the tomato line, including sheet masks, makeup removers, mud masks, and so much more. So you can imagine how excited I got when I received a sample of the new Yes To Tomatoes Detoxifying Charcoal Zit Zapping Dots Facial Treatment ($9; target.com) — I just didn't have a pimple to treat at that exact moment.
Fast forward to today. I walked around with this thing on my face all day, then I remembered about my Yes To newness. I read the back of the pack and it says the skincare stickers are packed with charcoal (which we all know is a natural detoxifier), salicylic acid (the OG cure for breakouts), and tomato extract (a major source of antioxidants).
The directions say, "after cleaning the zit, dampen the skin to prep for application." So, I wash my face, do some light exfoliating, sanitize my hands, and with the ends of two Q-tips...I pop my pimple. I don't usually recommend this, but it's basically on my lip, which is insanely uncomfortable, and it's so filled with puss that I can't imagine the ingredients will be able to penetrate this monster anyway.
But now, it's bleeding, irritated and I'm just glad it's time for bed and nobody (but my husband) have to look at me right now (sorry, Jerry). So, I pop on a black dot — the red ones are just as powerful, but they're not as obvious, so I figure I should save those for when I need to wear them out in public one day (hopefully never!). After I dampen the area, the patch goes on easy, like a sticker. As I do every night, I lay on my stomach, with my face in my pillow, and pray this thing doesn't fall off in the middle of the night.
When I wake up the next morning (24 hours from when it first appeared), the zit is gone, but so is the redness, swelling from my pimple popping, and any traces of gross puss. It's been three days since I found the zit and it hasn't come back, I don't have a scar, and it didn't pop up on another part of my face — though the latter might be a myth. Nonetheless, you best believe I'm keeping these magic mini-sized masks on reserve until my next emergency.