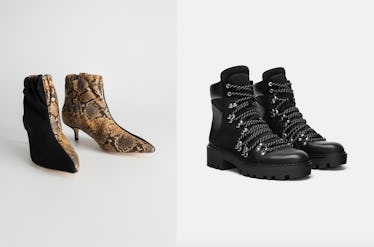 These Winter Boot Trends Are So Good, They'll Even Make Your Puffer Look Cool
& Other Stories // Zara
If you live in a city or town that gets cold during the winter, then your style likely gets majorly cramped by a puffer coat for at least four months of the year. But thanks to winter 2018 boot trends, which are highly stylized and even a bit extreme, the footwear of the season is here to save your sartorial reputation, even when you do have to pair it with a marshmallow with arms.
While I highly recommend you have a pair of heavy-treaded and tall waterproof boots on hand for those days when it's blizzarding and looking good is of no concern at all, having a few other pairs in your repertoire that are decidedly more trendy is always a good idea. You never know when you'll have a rare hankering to go out into the freezing cold post-10 p.m. one Friday night (this is rare for me in the winter), and will also need some cute footwear to pull on for those days when the snow has melted and no form of water is falling from the sky. And considering boot trends include Western cowboy boots, combat boots, hiking boots, high-gloss boots, and more, there'll be a few styles that will pique your interest. Shop 12 of the best below.
Tread Heavily
Hiking boots, but in punked-up, fashion-forward style. These are a fusion of classic outdoor footwear and more stylized combat boots, and would look ace with skinny jeans and flowy maxi dresses alike. Plus, they'd be great in the snow.
Earn Your Stripes
These are literally wild, but if styled right, they would make for some excellent weekend booties. The combination of zebra print and bejeweled heels give them a slightly kitschy vibe to die for.
Buckle Up
Combat boots have been "in" since the '90s but this pair brings a little something different to the table thanks to their oversized gold buckles.
Out West
Classic cowboy boots, but in shorter form. I love their dusty red color and slight heel. I'd wear these peeping out of a maxi dress all winter long.
Split Personality
If you like snake print shoes but want something a bit different, these booties are for you. At first glance they look like plain black boots from the side, but once their inner snakeskin pattern peeps out, they take on a whole new personality.
Balancing Act
Boots outfitted with cool heels (think see-through plastic, interesting shapes, etc.) are in this season and this pair can kick it with the best of them. From their sleek leather upper to their metallic ball heel, they scream fashion-forward and would look amazing with your favorite wide-leg trousers.
White Out
Another pair of combat boots, but in slightly more typical form.
Home On The Range
If you're into the cowboy boot but want something a bit more modern and stylized, look no further than this heeled option.
Silver Linings
Major shine factor and major comfort. These rarely go hand-in-hand.
Vicious Cycle
From their pointy-toed stiletto silhouette to their blood-red python print, these boots are the definition of fierce.
The Great Outdoors
A decidedly more authentic hiking-inspired boot, this style boasts a classic tan color and chunky treads.
Shine On
High-gloss boots are a great way to make your winter outfit stand out, especially when you're swathed in your puffer coat.