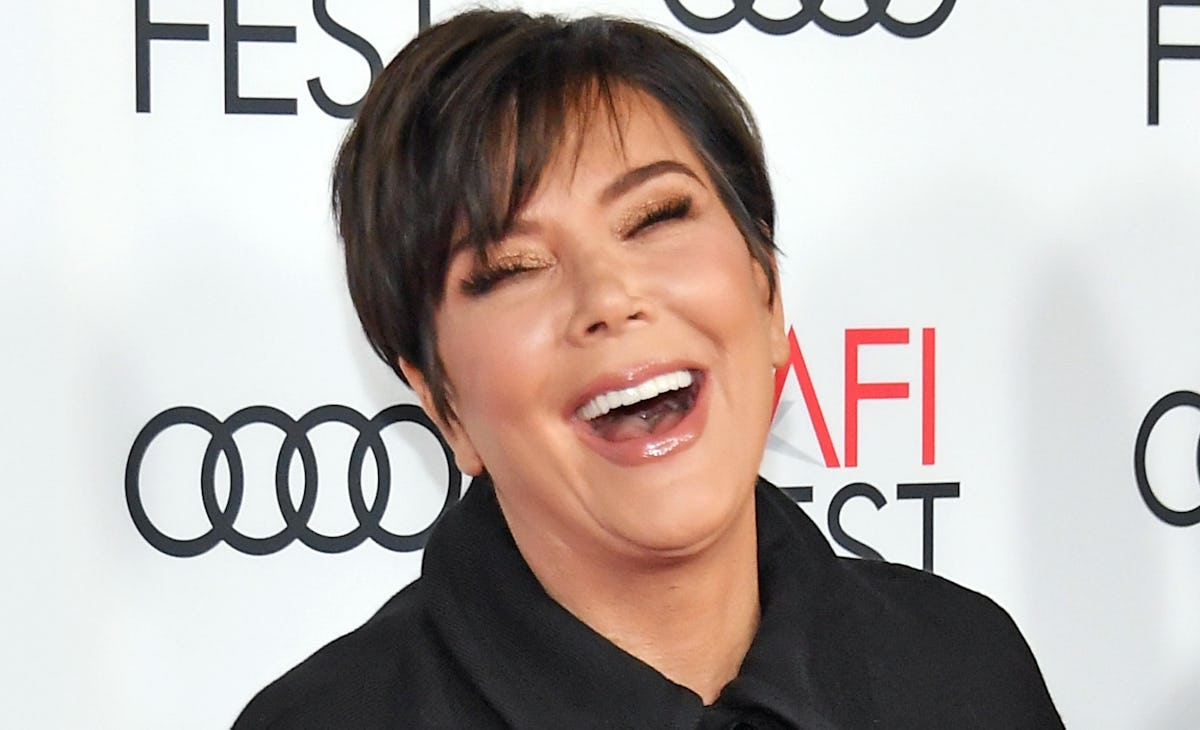 Kris Jenner Got SO Drunk At Her Valentine's Day Party & Khloé's Videos Are Hilarious
Kris Jenner knows how to throw a dinner party. For Valentine's Day, she had a small group of people over to her house for a fancy little dinner, they all got drunk of their asses, and Khloé and Kim Kardashian documented it all on their Instagram stories. What a time to be alive. These videos of Kris Jenner drunk at her Valentine's Day party make me feel closer to her than I ever have in my life, and I'd like to personally thank Kim and Khloé for providing the public with the content we need to see.
The night started off with a dinner at Jenner's house. Kim Kardashian posted a video on her Instagram story showing Jenner had used the leftover chocolate from Kardashian's Kimoji Hearts fragrance press boxes as place cards for the dinner. In the video, you can see Kardashian's name placed between Kanye and Jada Pinkett Smith's, and any party Jada Pinkett Smith attends is obviously going to be a good one, so this night was already off to a great start. Kardashian also posted a bunch of selfie videos with Kanye that are the cutest.
But the real show started when Kim and Khloé started posting videos of Kris Jenner doing karaoke with Kyle Richards from Real Housewives.
As the night went on, Kris Jenner got drunker and drunker. God bless America.
Drunk Kris Jenner has basically become the internet's favorite thing.
To sum this all up: Kris Jenner is objectively the best person to get drunk with and we should all make it a personal goal for our lives. Seriously, getting invited to a Kris Jenner dinner party is now on my bucket list.
First of all, just look at this table setup.
Second, look at the glee on Kris Jenner's face as she tries to twerk to "Anaconda."
Third, look at this photo and try to tell me this hasn't been drunk you at one point your life (read: literally every time you're drunk).
And on top of everything, Khloé made a joke about wanting 10 percent.
If you don't understand this joke, first of all, get with the damn times. Second, Kris Jenner has always said on Keeping Up With The Kardashians that as manager for her children, she gets 10 percent of whatever profit they make. She gets 10 percent!! Put all of that together and she gets 60 percent of all the profit her children make collectively, and I'm sure she'll end up being the manager for grandchildren too, so what I'm saying is Kris Jenner is going to take over the world one day. And I'll welcome my new leader with open arms when it happens because of how drunk she got at her own Valentine's Day party in 2018.
Now I understand why everyone in Hollywood is best friends with Kris Jenner. She is a shining beam of light! Jennifer Lawrence got drunk with her at a dinner party, Katy Perry is super close with Mama Kris, and we all already know Kris Jenner loves her friends. So mark my words, people: I will be invited to a dinner party at Kris Jenner's house one day. When I do, I will show her this article. And then, while we read this article and get drunk together, I'll tell her all about how I showed these drunk videos to my own mother in an attempt to get her to drink with me. I'll tell Mama Kris how she flat-out rejected me, and then we'll FaceTime my mom and talk about it. Then my mom will become best friends with Kris Jenner via this FaceTime, we'll fly her out to Calabasas, and the three of us will get sh*tfaced together like God intended. Goodnight, everyone!