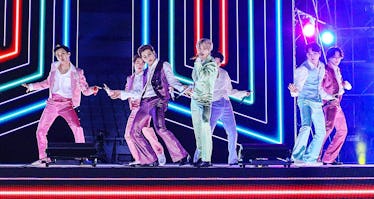 20 Times BTS Messed Up On Stage & Recovered Flawlessly Like Master Performers
AMA2020/Getty Images Entertainment/Getty Images
BTS takes performing to the next level. They always try to outdo themselves by incorporating harder choreography and more mind-blowing set designs each time they take the stage. Their end-of-the-year performances also include dance breaks that add to the experience of seeing them live. For the most part, these happen without any mishaps, but after putting on countless performances that get exponentially more complex with each passing year, things like wardrobe malfunctions and technical difficulties are bound to happen sometimes. These videos of BTS messing up and recovering flawlessly prove they're professionals who never let unexpected moments phase them.
Shortly after debuting in 2013, Suga revealed part of their training was preparing for stage mistakes, so that's why these incidents don't affect them so much when they happen. "We practiced a lot while monitoring our performances so I think that's why people who watch us think that we are really smooth at covering our mistakes. We've practiced a lot with props since debut. I thought everyone practiced like that but it turns out it was just us," Suga said following their debut, according to Koreaboo.
Surely, these methods of practicing honed their BTS' ability to brush off stage mishaps so seamlessly, audiences barely noticed they happened in the moment. But reliving the relatively few moments BTS messed up on stage highlights how exceptional they are, because their ability to recover flawlessly is what makes fans respect them as artists even more.