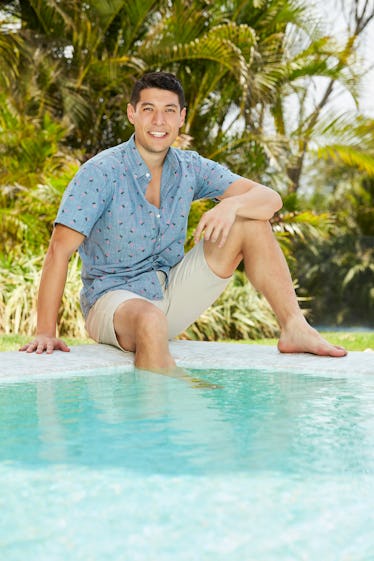 Venmo John From 'Bachelor In Paradise' Is Literally The Face Of This Venmo Ad
ABC/Chris Sjodin
Bachelor in Paradise's John Graham will likely forever be known by Bachelor Nation as Venmo John, and it appears he's taking that title seriously. As in, he's featured as one of the faces of the company seriously. The Bachelorette alum's nickname isn't because he likes to send people money — John actually worked as a developer for the convenient mobile payment platform and was one of its first five employees. But in addition to watching him on TV, you might just see him posing for the application in a subway station for you. Venmo ads of John from Bachelor in Paradise exist now, so be on the look out for the franchise fan favorite off screen.
"I made the iPhone app for Venmo," John explained to Jubilee during their cute ziplining date on BiP Season 5's third episode. "I left after they got acquired."
Jubilee (who abruptly exited the show on Monday after John put her in the friendzone) then very reasonably inquired just what he was doing on a reality dating show, to which he responded: "I'm just a programmer, I promise. Sometimes I don't like to bring it up because people will make judgments based on how much money I have."
John may have left his professional life at Venmo behind, but he's still affiliated with them in a major way — the guy's appearing in their ad campaign. Of course, eagle-eyed Bachelor fans are starting to take notice.
Acting as a model for Venmo kind of feels like the opposite of not bringing his association with them up, but kudos to John for siezing the opportunity. Who wouldn't jump at the chance to rep a successful brand?
John was eliminated by Becca in week 5 of The Bachelorette Season 14. His Paradise journey has proven to work more in his favor – he's hit it off with a handful of ladies, including Caroline, Jubilee, Chelsea, and Olivia. Going into his second shot at reality TV love, John mentioned that viewers might be surprised by his non-software engineer side. He told The Washington Post:
I know I'm Venmo John from reading some tweets and stuff, but I'm not that nerdy. Yeah, I'm a programmer. And yeah, I like to talk about optimizing my algorithms on a near-daily basis for work. But outside of work, I like to turn it off and unplug. I try to really have a balanced lifestyle. When I'm not at work, I'm out with friends; I'm going on long runs to the Golden Gate Bridge. I really enjoy cooking.
John currently works for a startup called The Fin Exploration Company. The Chicago native is — shocker — based in San Francisco these days and it's clear he's open to finding romance. How do his days at Venmo translate into reality dating success?
"The biggest thing I can think of right now is having to put yourself out there and having to take risks," he explained in interview with CNET prior to BiP Season 5's premiere. "The best intersection I can see is like totally being all in on something and embracing that lifestyle for a bit and then when it's over, think about something else in a different context."
John and newcomer Olivia seemed to be getting quite cozy on Tuesday, Aug. 28's Bachelor in Paradise. If he sticks around for the long haul, perhaps his love life will end up being just as successful as his impressive career.