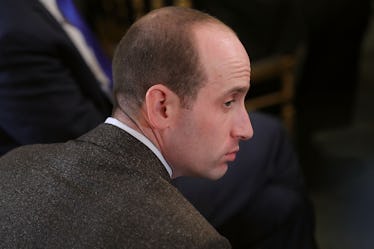 Twitter Is Dragging A Trump Aide After This Epic Burn About His Immigration Policies
Chip Somodevilla/Getty Images News/Getty Images
One of President Donald Trump's senior White House advisers was all over headlines Monday — thanks to a scathing essay written by none other than the adviser's own uncle. In a piece for Politico, Stephen Miller's uncle criticized and called out his own kin for his role in shaping the administration's policy on immigration. In response, Twitter was awash in tweets calling Stephen Miller an "immigration hypocrite."
The essay was written by Dr. David S. Glosser, a retired neuropsychologist and uncle to Miller, and was published in Politico on Monday, Aug. 13. In the piece, Glosser recalls the journey the family's forebears made to the United States from what is now Belarus in 1903, escaping the persecution of Jews in the area. Retelling a classic tale of a multi-generational American Dream, he explains how the family built a successful life in the United States that would have not otherwise been possible. Had the family not been granted a chance in America, he muses, they would likely have been killed in their home country, when the Jewish population of the family's hometown was decimated by Nazis during World War II.
But the policies spearheaded by his nephew, for Glosser, have been painful to watch. He writes:
I have watched with dismay and increasing horror as my nephew, who is an educated man and well aware of his heritage, has become the architect of immigration policies that repudiate the very foundation of our family's life in this country.
Glosser goes on to describe the hypothetical consequences of Miller and Trump's specific policies on a family like his own.
I shudder at the thought of what would have become of the Glossers had the same policies Stephen so coolly espouses — the travel ban, the radical decrease in refugees, the separation of children from their parents, and even talk of limiting citizenship for legal immigrants — been in effect when Wolf-Leib made his desperate bid for freedom.
Comparing the present-day policies towards immigrant families to those which impacted his own family a couple of generations ago, Glosser goes on to say that despite some ill will back then, the family still had rights. "There was no state sponsored violence against us, no kidnapping of our male children, and we enjoyed good relations with our neighbors," he writes.
Miller has been central to several policies that have had a profound effect on immigration and asylum in the country. A report from Aug. 7 named Miller as the driving force behind a reported upcoming proposal to limit U.S. citizenship for legal immigrants. He's also been a major cheerleader for the "zero-tolerance" policy that has caused the separation of thousands of families at the southern border, and was the architect behind the first travel ban which sought to restrict travel for citizens of several Muslim-majority countries. In June, the U.S. Supreme Court upheld the latest iteration of that ban, seriously limiting travel from citizens of seven countries, five of which are majority Muslim.
In response, many on Twitter joined Glosser in calling out Miller for his harsh stances that would have potentially harmed a family like his just a century ago.
The fact that the essay was penned by a family member alone sent a strong message, and it wasn't lost on users.
"In the long history of Jewish intrafamily smackdowns, this smackdown of Stephen Miller by his uncle might be the greatest ever," tweeted New Yorker writer Jonathan Chait.
Some users predicted that the essay by Glosser would place a strain, to say the least, at family events.
"In all my years of being Extremely Online, never before have I seen someone owned this badly and this thoroughly," tweeted Vox writer Dylan Matthews.
Harvard University Law Professor Laurence H. Tribe promoted the essay, too. "This amazing article by Stephen Miller's uncle speaks for itself. Miller might not read it, but you should."
Celebrities, too, heaped praise on Glosser's work.
Family infighting aside, the essay was inarguably outside the norm of the everyday mudslinging that comes along with Washington politics. Whether or not Miller himself gets around to reading it, the piece appears to have illuminated an important view in the ongoing conversation about immigration.