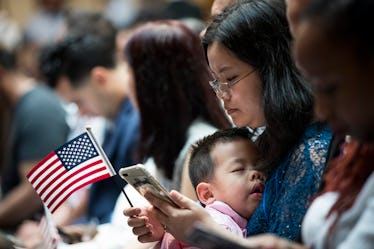 The Trump Administration Is Reportedly Trying To Limit Citizenship For Legal Immigrants
Drew Angerer/Getty Images News/Getty Images
President Donald Trump's administration is reportedly preparing to roll out a plan that could send another shockwave through the immigrant community in the United States, According to a report from NBC, Trump may limit citizenship for legal immigrants in a proposal that's expected to be unveiled in a few weeks. The news of the plan was reported on Tuesday, Aug. 7 and cited four sources who described drafts of the proposed plan.
The policy, which would reportedly not need to go through Congress for approval, could limit the number of immigrants living in the U.S. legally who can apply for citizenship or a green card, based on their use of social services including food stamps and children's health insurance. Rumors of such a proposal were first reported by Reuters in February, but the proposal has now reportedly reached the White House Office of Management and Budget (OMB), the final stage before going into the federal register as official policy.
Elite Daily reached out to the OMB, the Department of Homeland Security (DHS), and the DHS' U.S. Citizenship and Immigration Services (USCIS) for comment.
In a statement to Elite Daily, a spokesperson for DHS said,
The administration is committed to enforcing existing immigration law, which is clearly intended to protect the American taxpayer by ensuring that foreign nationals seeking to enter or remain in the U.S are self-sufficient. Any proposed changes would ensure that the government takes the responsibility of being good stewards of taxpayer funds seriously and adjudicates immigration benefit requests in accordance with the law.
The OMB and USCIS did not immediately reply to the request for comment.
According to NBC's Julia Ainsley, descriptions of the draft version of the plan specifically showed that it would restrict citizenship from immigrants and migrants living in the U.S. if they have used social services like food stamps or the Affordable Care Act (ACA), or if a member of their household has ever used such programs. Advocates told the outlet that the decision could have an impact on some 20 million immigrants in the country, particularly those with families and limited incomes.
According to a document uploaded by the Minnesota Star Tribune which appears to be an undated draft of the proposal originating from the USCIS, "Aliens applying for a visa, admission at a port of entry, or adjustment of status must establish that they are not likely at any time to become a public charge."
The document lays out grounds for rejecting citizenship in part based on an applicant's actual status or risk of becoming a public charge, defined as "a person who is dependent on public benefits." The draft defines these as monetary aid and "government assistance in the form of aid, services, or other relief," that would apparently not include earned benefits and services, such as Medicare or worker's compensation. The document further suggests that a decision to approve or reject someone cannot be made based on a single factor of an application.
It's not new that the government would consider dependence on government assistance in screening out prospective citizens. What would change under the new proposal, though, is the scope of how many types and what kinds of public assistance and social services might disqualify an applicant.
Under current USCIS guidelines, cash-based assistance programs are used as the basis for determining whether an applicant would be seen as a public charge; non-cash programs like food stamps and health insurance are not. Under the new proposal, using many of those non-cash programs would also now be grounds for rejecting an applicant — an expansion that NBC notes could affect even families earning as much as 250 percent of the poverty level. Currently, immigrants, depending on their status, can participate in the health insurance marketplace, and non-citizens are eligible to apply for food stamps.
NBC also reported that immigration attorneys have noticed a decline in the number of citizenship applications they've seen being approved. If current data trends continue through the end of October, NBC also notes, they would reportedly reflect a 20-percent decrease in green cards and a 10 percent decrease in naturalized citizenship compared with 2016 rates.
It's unclear when the policy will be unveiled or what final form it will take, but if it does move ahead with expanding the grounds for rejecting immigrants to cover the additional social services, it could have profound implications for would-be citizens around the country.