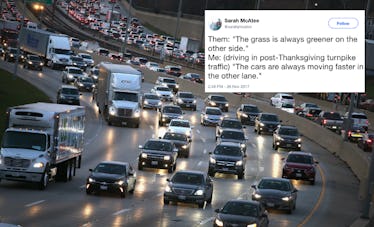 These Relatable AF Tweets About Dreading Thanksgiving Travel Will Make You Say, "Same"
Scott Olson/Getty Images News/Getty Images; Twitter/Sarahjmcatee
Thanksgiving is just around the corner, and with it, the year's busiest time to travel. If you're hitting the road or flying somewhere for Turkey Day, chances are very high that you'll be stuck in a traffic pile-up, fielding long lines and possible flight delays at airport security, or, at the very worst, maybe even missing Thanksgiving dinner altogether. The struggle is real, and these tweets about traveling on Thanksgiving show that literally no one is a fan of the nightmarish experience.
Now's the time to mentally prepare yourself for the hassle of traveling to your Thanksgiving day destination, as over 51 million Americans are expected to travel for the holiday this year, according to Fortune. Last year's numbers hit as 12-year record with more people than ever attempting to head out on the Tuesday and Wednesday before Thanksgiving. Meanwhile, the airline industry is also expected to have its most busy Thanksgiving ever. According to a study from Airlines 4 America magazine, approximately 30.6 million passengers are expected to take a U.S. airlines flight in the travel time period around Turkey Day. To put that into perspective, reportedly only 29 million travelers flew during the same time last year. According to the publication, particularly busy days for air travel include Sunday, Nov. 25 as well as Wednesday, Nov. 21 and Friday, Nov. 16.
If you've had to travel for prior Turkey Days, it's likely that dealing with stressful travel arrangements is just something you've come to expect, and I headed to Twitter to see that people are saying the same thing. Literally everyone is dreading the multi-hour trip to their Thanksgiving dinner because the holiday madness just can't be avoided. Even though long lines or traffic jams are something that comes with the territory of travel during the season of thanks, it doesn't mean that people aren't going to complain about it on social media. We're all in the same boat, y'all, and while airing your frustration online might not change things, it'll certainly make you feel better.
Thanksgiving traffic is already happening, and it's only going to get worse in the days leading up to your turkey and stuffing spread. In addition to commiserating with fellow travelers on Twitter, I'd definitely check out the busiest days of Thanksgiving travel before you fly or drive so that you're mentally prepared and can allocate some extra time to get to dinner on time.
If you do have to drive on days when traffic is expected to be at its worst, I'd recommend heading over to Google Maps to see the data giant's analysis of the best and the worst periods of time to hit the road. The results vary from state to state and are based on travel trends from previous years, so you'll have a pretty good idea of when you should start driving and what times you should completely steer clear of unless you want to be stuck in a traffic jam for hours. All in all, the company found that across the board, Wednesday, Nov. 21 around 3-4 p.m. is the worst time to be driving, so keep that in mind as you plan your travels.