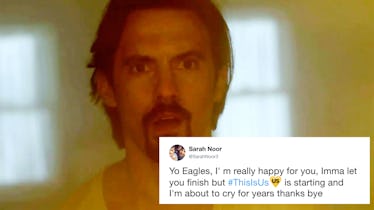 These Tweets About The 'This Is Us' Super Bowl Episode Will Literally Break You
NBC
The day that This Is Us fans have been waiting for what feels like forever is finally here, and they are are making their feelings known. Following Super Bowl LII, NBC aired a special, brand new episode of This Is Us that finally showed us how Jack Pearson died... a mystery that the family drama has been teasing since its pilot episode aired a year and a half ago. Obviously, it was a tremendously emotional experience, and This Is Us fans let out all the feels on Twitter: some hilarious, some heartwarming, but mostly devastated. Check out the best tweets about the This Is Us Super Bowl episode below, because you know you want to relive all that emotional torment.
The anticipation was intense among fans for this new episode, following the climactic episode to air before it. In last week's show, fans watched in awe as a defective crockpot burst into flames that started spreading throughout the Pearson home, and then the promo showed us Jack staring into the fire, teasing that this would be the episode to answer all of our questions.
After the football portion of the Super Bowl was over, it was time for the ugly-crying portion. The new episode of This Is Us got right to it, starting out in the middle of the Pearson house fire as Jack attempts to get Rebecca, Randall, and Kate out of the burning house (Kevin was off at Sophie's). Fans were immediately in emotional turmoil in the very first minute of the show:
The fiery first scene ended in Jack successfully getting his family out of the burning house, only to realize that the dog is still in there. As everyone watching clutched our hearts, Jack ran back into the fire and... came back out with the dog alive! Phew! But the scene ended with Jack in an ambulance, as a paramedic warns that he has second-degree burns and inhaled a lot of smoke. We know he dies on this day, but the mystery was still alive.
When Jack and Rebecca make it to the hospital, the doctor confirms that Jack may have inhaled too much smoke while rescuing his family and going back for Kate's dog. That could also explain why Kate feels so responsible for her dad's death, since he ran back into the house and inhaled even more smoke in order to save her dog. But at this point, fans were still unclear on how Jack really died.
And then... the moment came. The moment we all knew was going to leave us in tears for the rest of the night. While waiting on Jack at the hospital, a doctor comes out and tells Rebecca that the smoke inhalation triggered a cardiac arrest, and that he had died. Rebecca is first in disbelief, then breaks down into uncontrollable sobs. Obviously, Twitter broke down in mass grief as well:
In the end, we were left watching the rest of the Pearson family cope with Jack's death, both immediately after it happened in the past, and on the 20th anniversary of it in the present-day storyline. After that big reveal on how Jack died, all Twitter could focus on was grieving the fallen patriarch.
Basically, that episode was so gut-wrenchingly emotional that even Eagles fans ended up in tears on Sunday night, despite that big win. Oh, and in case you still have anything left in your tear duct, don't forget that This Is Us is back to its normal schedule now, and will be airing a brand new episode in just couple of days, on Tuesday, Jan. 6. So keep those tissues nearby.