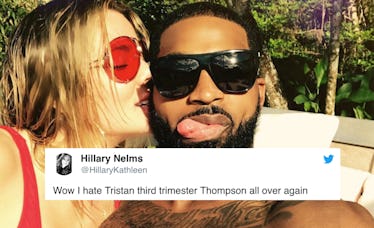 Twitter Is Angry At Tristan Thompson All Over Again After The Cheating Episode Of 'KUWTK'
Instagram/Khloé Kardashian
Keeping Up With The Kardashian fans are a bit overwhelmed by Season 15. In the most recent episode that aired on Sunday, Nov. 4, fans saw the entire family's reaction to the news that Tristan Thompson cheated on Khloé Kardashian. If you guys remember (as if you wouldn't...) videos surfaced of Thompson kissing other women just days before Khloé went into labor with their daughter, True. Based on the show, it looks like the reports leaked within 48 hours of True's arrival. Now, tweets about the KUWTK cheating episode are dragging Tristan Thompson so hard, you'd think it was April 2018 all over again. Elite Daily previously reached out to Kardashian and Thompson's teams for comment on the cheating scandal but did not hear back by the time of publication.
The cheating scandal was a shock to the system for at least two reasons. One, like I mentioned, Khloé was due with their first child together any freaking second. Second, fans truly believed KoKo and Thompson were a match made in heaven. Their relationship flourished before viewers eyes, making everyone believe nothing could come between them. Then, on April 10, 2018, TMZ released a video showing Thompson kissing multiple women at a nightclub.
Fans watched in wonder on Sunday, Nov. 4, as cameras caught Khloé's sisters hearing about the scandal in real time. Kendall was driving back from skydiving with Scott. Kylie was mid glam session. Kim was sitting down for her one-on-one interviews for the show. Kourtney was walking around her home. Khloé was actually on maternity leave from filming during this time, so all of her footage in this episode was captured by herself or her friends on her smartphone.
To be fair, the family kept their cool so hard.
Fans, on the other hand, went in on Thompson on Twitter.
While fans were busy reeling watching the Kardashians take in the terrible news, Khloé was on her own Twitter feed serving up some serious realness.
One thing fans were surprised to learn is that she wanted Thompson in the delivery room with her despite having just learned he reportedly cheated on her. She also said there were no cameras with her when she confronted Thompson in real time, and that he was "lucky" she was nine months pregnant.
One thing Khloé made clear is how important it was for her daughter to have both of her parents there the day she was born. She wrote, "I want her to have videos and pictures of her daddy there, holding her etc," adding, "My only thought was about the birth of my daughter. I wasn't going to let ANYONE disrupt anything less than what she deserved."
She also admitted she must have been in a "state of shock," but all things considered, she's very proud of how she handled a truly wild time.
Of course, this episode is just the tip of the iceberg. It ended with sisters Kim and Kourtney and Khloé's best friend Malika waiting to catch their plane to Cleveland. The three of them sat in the airport discussing how they were going to handle seeing Tristan, knowing they needed to stay calm for Khloé.
Kim's suggested approach? One simple drag of her finger across her neck.