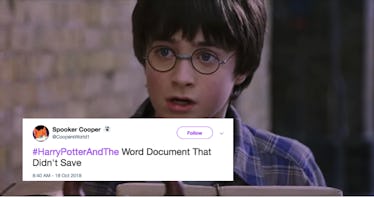 This 'Harry Potter' Hashtag Is Putting Hilarious Twists On Your Favorite Book Titles
Warner Bros.
Like many somewhat-geeky millennials, I grew up obsessing over each and every title in the Harry Potter series. I've read every book, watched every movie, dressed up like various characters for Halloween, and I still dream about visiting Universal Studios' Harry Potter World on a regular basis. I told you, the obsession is way too real. However, even if you don't happen to be a major HP fanatic like myself, chances are you'll get a total kick out of these tweets about the #HarryPotterAndThe hashtag. They're seriously hilarious twists on the classic titles you've come to know and love.
In case you didn't read or watch anything from the HP series, let me fill you in on the joke a little bit. Each book and movie title in the series begins with "Harry Potter and The." The first is called Harry Potter and the Sorcerer's Stone, then "Chamber of Secrets," "Prisoner Of Azkaban," "Goblet Of Fire," "Order Of The Phoenix," "Half-Blood Prince," and finally, "Deathly Hallows." You get it, right? Awesome.
Anyway, a few of the #HarryPotterAndThe hashtags make actual Harry Potter jokes, whether they're creating spin-offs of the real Harry Potter titles, or if they reference something that happened in one of the books or movies. Take a look below, because each and every tweet is super funny.
If you aren't a diehard HP enthusiast, though, no worries. You'll probably get a kick out of these #HarryPotterAndThe tweets, suggest mash-ups with other movies and shows. Each of these combinations are absolutely beautiful, and to be completely honest, I'd love if someone actually created a Friends and Harry Potter mash-up. Someone do it, please.
On the other hand, several people in the Twittersphere simply decided to just make totally ridiculous #HarryPotterAndThe titles, which make absolutely no sense. They're absurd and straight-up amazing, though, like "Harry Potter And The Half-Eaten Tuna Sandwich." If you think about it, that could make for a really, really riveting plot.
OK, all of you gorgeous humans out there in the Twittersphere are creative AF. I want to be friends with each and every one of you, because we'd make a really solid Harry Potter-loving team.
If this viral meme is reaffirming your love for the HP series right now, make sure to check out this straight-up adorable Harry Potter Advent Calendar, which is available for purchase on Funko.com. Each December date will unleash 24 cute, pocket-sized versions of your fave HP characters, and honestly, I need to get my hands on one. They're too cute for words.
In my personal opinion, very few things in life can surpass a good old-fashioned Harry Potter meme. The #HarryPotterAndThe hashtag has me in stitches RN, because each idea is so flippin' funny. I've already thought of a few of my own, but you'll have to catch them later, under the trending hashtag on Twitter.