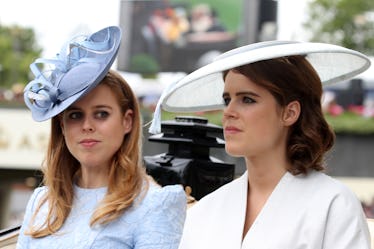 Twitter Is Losing It Over Princess Eugenie Using A 'Great Gatsby' Reading At Her Wedding
Chris Jackson/Getty Images Entertainment/Getty Images
You're probably already aware of the fact that Princess Eugenie got married on Friday, Oct. 12, 2018, to her one true love, Jack Brooksbank. The princess' sister, Princess Beatrice, was the maid of honor, and like any typical bridesmaid, Princess Beatrice made an incredibly heartfelt speech at the ceremony. During the speech, Princess Beatrice ended up quoting The Great Gatsby, and even though the 1924 novel is extremely popular, these tweets about The Great Gatsby reading at Princess Eugenie's wedding are pretty harsh. Yikes.
In case you missed out on reading The Great Gatsby in 10th grade English, it's a novel about a lonely, wealthy man named Jay Gatsby who throws incredibly lavish parties in order to impress Daisy Buchanan, a woman who's married to an abusive husband. Fights break out and several characters die, and in the end, the soft-spoken narrator, Nick Carraway, realizes happiness (and the American Dream) are simply an illusion, and most importantly, that money can't buy you love. Since the message kind of revolves around Carraway realizing that frivolousness often fuels society, many are wondering why Beatrice chose the book to read at her royal sis' wedding in the first place. A large portion of Twitter is pretty disappointed, and they're starting to think that Beatrice may have never read the novel, in its entirety.
Other viewers, however, were absolutely thrilled that Princess Beatrice decided to read a passage from the highly regarded Great Gatsby. While it may not be totally fit for a lavish wedding (considering the fact that it casts a negative light on both wealth and love) it's a beautiful book, nonetheless. The meaning behind the actual story may have been a little lost in translation, but many audience members probably recognized it — with an appreciation for it — pretty immediately.
See? Maybe it wasn't the worst idea to read The Great Gatsby. Everyone loves the book despite the fact its message may not quite be wedding material.
Anyway, Princess Bea's interesting book of choice wasn't the only atypical aspect of the royal wedding. In fact, Princess Eugenie broke a ton of "royal wedding traditions" amidst tying the knot. She happens to be ninth in line, and therefore, the princess doesn't carry out any "royal duties." So, she isn't required to follow as many rules as, say, Prince Harry. Eugenie's cake, after-party, and beverage selection are just a few reasons why her wedding might be different from that of her family's, but regardless, it looked like an absolutely gorgeous wedding.
I don't know about you, but I'm a little torn on how I feel about Bea's choice to read The Great Gatsby during her wedding speech. Like, the overall message definitely doesn't fit the mood for a royal wedding, but then again, Fitzgerald has a lovely way with words, and it's a gorgeous novel overall. Regardless of your stance on the speech, though, it was a really beautiful wedding and hopefully, Eugenie and Jack's love will be far more successful than Gatsby's. So cheers to that!