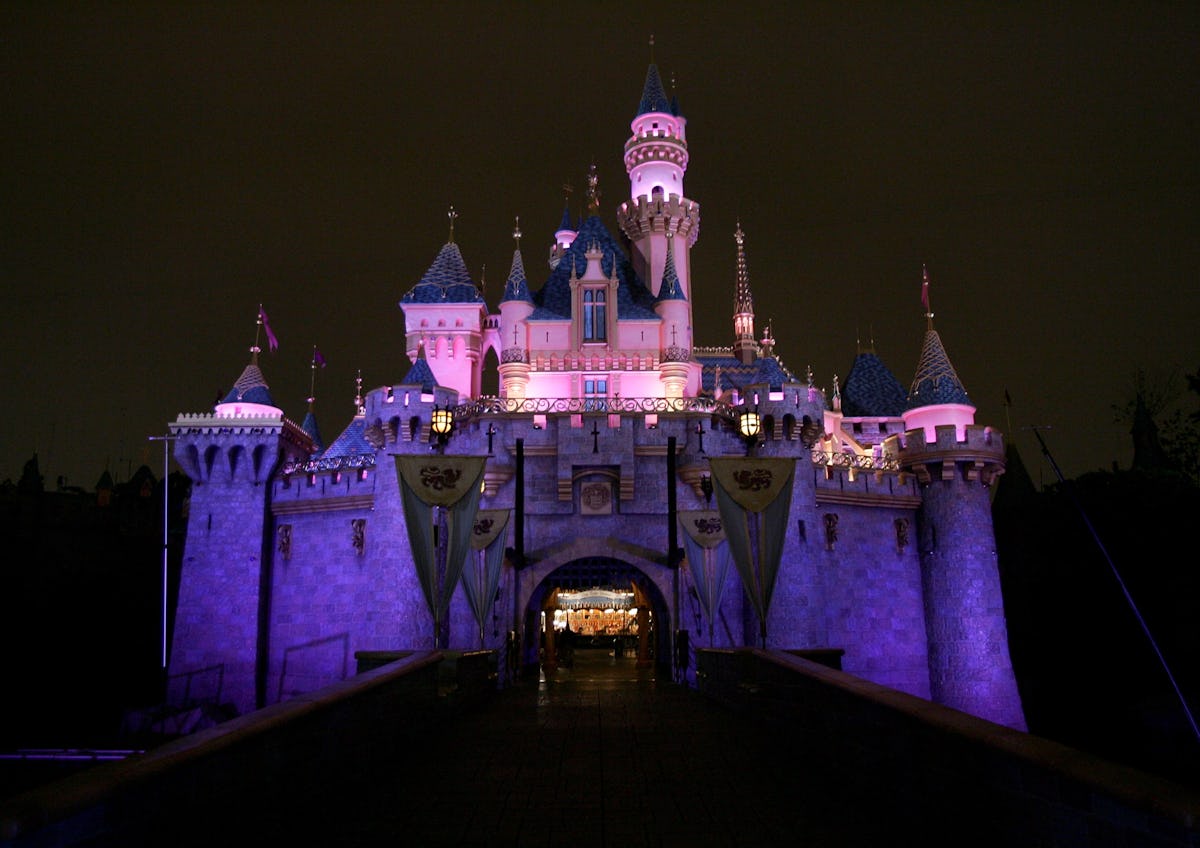 Disneyland Had A Major Power Outage & The Tweets Have Us Dying
Frazer Harrison/Getty Images Entertainment/Getty Images
It's the happiest place on Earth, until it really, really isn't. That's what everyone over at Disneyland in Anaheim, California, discovered on Dec. 27, when a power outage stopped rides and stalled the fun. But while the experience probably wasn't the best for those on the ground, Twitter sure got a lot of enjoyment out of it. The tweets about the Disneyland power outage are hilarious, and I honestly can't stop laughing.
The outage hit the areas of Toontown and Fantasyland shortly before 11 a.m. local time, according to CNN, and the power was out for several hours. Visitors were reportedly escorted off rides by park employees. Though a spokesperson told Variety that the majority of rides had been restored by 12 p.m. PT, there were a few that didn't get power restored until about 4 p.m. Of course, it all happened when the park was near capacity, spreading the pain to the most people possible.
Thankfully, there didn't seem to be any injuries or anyone actually trapped. The Anaheim Fire Department told CNBC that they hadn't been called in for any rescues. But that doesn't mean that visitors aren't feeling the pain. A spokesperson for the park told Variety that refunds were being handled on an individual basis.
On the one hand, I feel really bad for everyone who had their vacation excursion ruined. On the other hand, I'm insanely jealous of everyone who was spending the days between Christmas and New Years' at Disneyland. So there was just a smidgen of schadenfreude when I heard about this outage. And apparently, I'm not alone. It seems that anything less-than-magical is too good for Twitter to leave alone, because everyone on the social media platform was bringing the jokes.
Some people thought they had found the culprit.
Some people worried for those on the ground.
And some people just reveled in the ridiculousness.
I mean, Disney is such a behemoth of a company, it's not surprising that everyone was ready to poke a little fun.
Of course, for those actually on the ground, the situation appeared a little less funny.
Pray for those poor people who were trapped in the It's A Small World ride. Those dolls with their dead eyes and incessant singing feature in my nightmares. Let's be honest, in all of our nightmares.
Of course, there were also some people who got serious about it.
Plenty of people on Twitter compared the shortage, which lasted several hours and inconvenienced people who were able to afford a ticket to Disneyland, with the months-long power outage experienced by Puerto Rico following Hurricane Maria.
So, yeah, this one isn't so funny.
An estimated million-plus people are still without power in Puerto Rico, three months after the island was devastated by Hurricane Maria on Sept. 20. The storm destroyed the electrical grid, and despite promises, the island still isn't even halfway to recovery, according to The Chicago Tribune. So, yeah, the Disneyland outage pales in comparison.
But inconvenience and pain is experienced on a relative scale, and the people in the midst of the Disneyland outage were definitely still kind of pissed.
A statement from Disneyland to KABC said that the outage was caused by a transformer, though they didn't note what happened. The statement, which was released before power was restored, said,
We've determined that the issue is with a Disneyland Resort transformer and our team is currently assessing and working to restore power.
Sounds like someone *cough*Goofy*cough* tripped over a power cord to me.
So, all in all, sounds like a great vacation! Nothing like getting stuck on rides in an overpriced theme park to ring out the last days of the trash fire that was 2017. Note to self: don't do anything fun for these last few days of the year. It's just tempting fate.