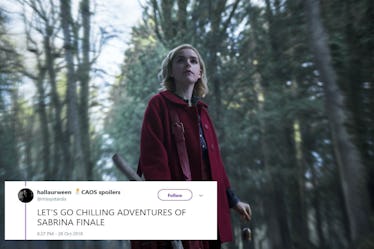 These Tweets About The 'Chilling Adventures Of Sabrina' Ending Will Bewitch You
Netflix
Unlike Riverdale, which runs on the CW network and broadcasts one episode a week, the spinoff series Chilling Adventures of Sabrina is airing on Netflix. This means fans didn't have to wait weeks for the ending to arrive but instead spent the weekend binging their way through all 10 episodes of the series. These tweets about the Chilling Adventures Of Sabrina ending are proof it was worth it. Warning: Spoilers for the Chilling Adventures of Sabrina Season 1 finale follow.
Unlike a broadcast network show, Chilling Adventures of Sabrina had another leg up from Netflix, a guaranteed two-season order before the series premiered. This meant the finale at once both closed the first season and a set up for another round of 10 episodes to come. Some mysteries which were seeded early on remained unsolved, like what really happened Kemper family — both to Connor, the adopted warlock son, and his parents. Others, like if Sabrina would sign her name in the Book of the Beast, were answered spectacularly.
For some viewers, the entire season was just a delight, if a touch on the messy side in places, and so the finale was a joyful episode to dive into.
For others, the cliffhangers at the end of the season had them demanding Season 2 right away.
For many, Kiernan Shipka in the platinum blonde 'do her character sports in the comics and little red dress was the perfect nail-on-the-head ending to the series.
But for most, it was the sight of Sabrina signing her name and taking hold of the tremendous power she can wield as a full witch that sent them spiraling to the floor.
Even though Sabrina and Harvey ended their relationship and Sabrina left the mortal world behind, fans were not sad. Sabrina is off to a great new adventure at the Academy of Unseen Arts.
For many, after watching Sabrina try and fail to have it both ways all season, seeing this new Sabrina gave them hope for a more decisive character in Season 2.
For those who were doubtful about the new show, considering how uneven Riverdale can be at times, the finale capped off a promise fulfilled.
Move over Hermione. There's a new sheriff in town.
For some, all the dangling plot threads were too much, but they were willing to wait and see how Season 2 resolved things.
But some were less enthused, and probably won't come back for another round.
Others were just glad it was on Netflix, instead of trying to stretch for 18 hours on the CW.
As for the Salem fans and cat ladies, there was one moment in the finale which upset them most.
What do viewers want?
More Salem!
When do they want it?
Season 2!
And finally, for the longtime fans, the new Chilling Adventures of Sabrina was great, but never forget the original.
Chilling Adventures of Sabrina Season 2 will arrive on Netflix sometime in 2019.