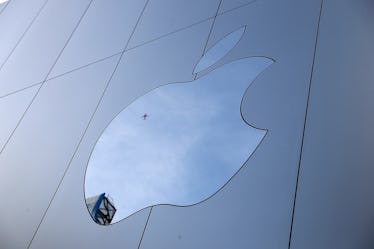 Apple Opened Up Its 2018 Keynote With A Seriously Hilarious Intro
Justin Sullivan/Getty Images News/Getty Images
If you missed the 2018 Apple Keynote intro, boy, did you miss a treat. Just look at these tweets about the 2018 Apple Keynote intro and see how hype everyone is. I bet they'll get you so excited that immediately rush to YouTube to watch it a million times over.
The video debuted on Wednesday, Sept. 12 ahead of Apple's big fall hardware event where the company is expected to show off its latest gadgets, including phones, smartwatches, accessories, and more. I'll be honest: I thought the event was going to start with, y'know, the regular, kind of mundane speech, but obviously Apple had other ideas. It kicked off with a short film, in which a woman darts across town, dodging through obstacles, to drop off a suitcase full of the new devices at the Apple event. It's pretty rad, and totally gives off Mission Impossible vibes, which is why dozens of people are taking to Twitter to obsess over it.
The intro was "drool."
"Amazing intro , only Apple can make a presentation this fun!"
Indeed.
Of course, there were some roasts, too.
"I'm not gonna tweet snarky things about the Apple event. I promised myself I wouldn't do that this time. But this intro. Lord, you're testing me," The Verge co-founder Ross Miller wrote.
"Is this an Apple Watch intro or a Guardians of the Galaxy trailer?"
The intro really built up the anticipation of everything that was to come at the Apple event, if you ask me. The company rolled out the iPhone XS and XS Max, which are updates to last year's flagship iPhone X. The phones come in stunningly sleek colors, including space gray, silver, and a new shade of gold, according to Mac Rumors. They can also be dressed up with colorful Otterbox cases, including shades like taupe, stone, midnight blue and more, 9to5Mac reported. What's more, the iPhones reportedly come in 64GB, 256GB, and 512GB storage capacities, which means that some of us can finally get wild and download a bunch of jams from Apple Music without worrying about getting that annoying "Storage Almost Full" notification. (!!!)
The iPhone XR was also unveiled at the Apple event. The phone is more of a budget-friendly option for shoppers, as it features a LCD screen instead of the usual OLED screen, per CNET — which is even greater news for anyone who wants to purchase a new phone without breaking the bank.
Plus, all of the phones come with a bevy of exciting features, including high-end cameras and longer battery life. There's also the fact the phones will run on iOS 12, which will hopefully mean we finally have access to MeMoji, which allows owners to create their own personalized emojis. There's also Face ID, a feature that allows all of us lazy folks out there to unlock the iPhones with our faces. Basically, much of what many of us iPhone obsessives have long been waiting for is finally coming to life and it's amazing.
The keynote intro was just the icing on the cake.