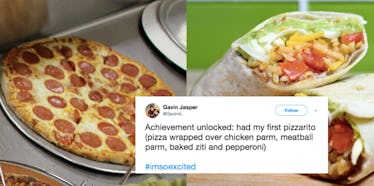 The Internet Is Totally Divided Over This Giant 7-Pound Pizza Burrito
Joe Raedle/Getty Images News/Getty Images/Joshua Blanchard/Getty Images Entertainment/Getty Images
I'm not even sure what life is anymore after stumbling across this gargantuan hybrid pizza-burrito dreamed up by a New York pizzeria. The internet isn't sure what to make of the "PizzaRitto," as it's more affectionately known as, either. It's a massive rolled-up pizza, brimming with some of the most mouthwatering pizza toppings out there. These tweets about Russo's House Of Pizza's "PizzaRitto" are so divided.
OK, Russo's House of Pizza, you've really outdone yourself with this one. According to Food INSIDER, the massive pizza roll-up clocks in at a hefty 7 pounds, so you could literally eat for days. The Pizzarito is a crazy new food trend taking the internet — and pizza lovers everywhere — by storm. Russo's House of Pizza is located in Pearl River, New York. That's about 28 miles outside of New York City.
Russo's sells three versions of its popular PizzaRitto. The first is known as the DrunkenRitto and costs $16 per pie, according to the menu. This bad boy is loaded up with chicken Parmesan, vodka sauce, ravioli, and mozzarella sticks. If that's not the most loaded pizza I've ever heard of, then I don't know what is. The DrunkenRitto is rolled up into a burrito (hence the name PizzaRitto) and served up on a metal pizza pan for you to enjoy.
Next up is the GinzoRitto. This one sounds as crazy (and delicious) as the last one. The GinzoRitto is chock full of sausage, peppers, onions, and finished off with spaghetti and garlic knots, per the menu. Like the DrunkenRitto, it's rolled up, sliced in half, and ready for you to dig in.
Then, there's the OG PizzaRitto. This one is only available on Sundays, per the pizzeria's Facebook page. The OG is filled with chicken, meatballs, pepperoni, parmesan, baked ziti, and mozzarella sticks.
There are many interesting food mashups out there, but this one may take the cake for the craziest one yet. Twitter has a lot of thoughts about this one. Users can't seem to decide whether the invention of the PizzaRitto is totally genius or not.
Have you ever thought about your last meal? Morbidly enough, I have. It's always involved my favorite foods like my grandma's chicken and dumplings, Smitten Kitchen's chocolate chip cookies, and my mom's pasta salad. That is until I came across the PizzaRitto. What I love about this crossover pizza burrito creation is that it's not your average pepperoni pie. Each PizzaRitto features its own list of unique and creative ingredients that you likely won't find on your average pizza. Of course, the PizzaRitto isn't your basic pie by any means.
Some people like to eat pizza with a fork and knife, while others like to pick up a slice and fold it in half. The PizzaRitto is sort of like folding a slice long ways, except over and over again. You'll definitely need a fork and knife to tackle the PizzaRitto, too. Oh, and about 25 napkins. Maybe a bib? Definitely a bib.