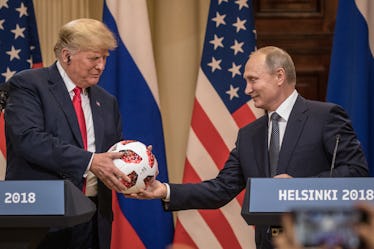 These Jokes About Putin Giving A Soccer Ball To Trump Are So Bleak & So Real
Chris McGrath/Getty Images News/Getty Images
Everyone was at the edge of their seats ready to see what would happen when President Donald Trump and Russian President Vladimir Putin held a joint press conference on Monday, July 16. While most expected dodging of 2016 election-related questions and a dive into U.S.-Russia relations, they got a little something extra. Putin came to the meeting bearing a gift, and these tweets about Putin's soccer ball gift to Trump are so bleak, but what did you expect?
During the press conference that followed the one-on-one meeting between the two presidents, Putin offered an unexpected gift to Trump. At one point, he pulled out a white-and-red World Cup soccer ball and gift it to Trump. "Mr. President, I'll give this ball to you and now the ball's in your court," said Putin via a translator. Then the Russian president took a pause, possibly because he had just realized that saying "now the ball's in your court" in front of a bunch of press is a little heavy-handed. Putin then finished, "All the more that the United States will host the World Cup in 2026."
Trump, for his part, thanked Putin for the ball, saying "that's very nice" and adding that he intended to give the ball to his 12-year-old son, Barron, before tossing it to first lady Melania Trump in the front row of the press conference.
There's a lot of things that could have been said about that ball exchange. For one thing, it's pretty uncomfortably awkward. But it's probably pretty telling that everyone's mind went to one thing — is that soccer ball bugged?
Here's one for all you devoted Office fans who know that there's a listening device inside that mallard that's not a duck:
Even South Carolina Senator Lindsey Graham got in on it. "If it were me, I'd check the soccer ball for listening devices," he tweeted on July 16. "And never allow it in the White House." I mean, someone would have thought of that, right?
Then again, don't forget what Trump said he'd do with the ball — namely, give it to Barron. If that actually happens, I hope any Russian spies listening in enjoy hearing video game theme music ad nauseam, because I bet that's what they'll be hearing.
But as some people on Twitter pointed out, giving it to Barron might be out of line, as Putin gifted that ball to the United States, not Trump personally.
Twitter has got it right. When a sitting member of the administration is given a gift, it technically belongs to the country. All gifts received go to the National Archives or are transferred to a Presidential Library, according to The Atlantic. If a White House official wants to keep something once their term is up, they actually have to purchase it at their market value. For instance, when Hillary Clinton ended her term as Secretary of State under President Barack Obama, she purchased a black pearl necklace that was gifted to her by Myanmar opposition leader Aung San Suu Kyi in 2012. I guess Trump can buy Barron the ball once he leaves office (hopefully he'll still be young enough to play with it).
The moral of the story here is that if you're in a tension-filled relationship with another foreign country, maybe look that gift horse in the mouth? Or at least toss it to your wife to send to the archives where no official business happens.